For many Americans, owning a home is the ultimate dream, but that does not imply it is suitable for everyone. That is because purchasing a home is a long–term commitment that necessitates a significant financial investment.
Having said that, whether your lease is coming to an end, you are looking for your first apartment, or you are considering buying a home, all of these decisions influence your finances and should be carefully considered.
If you are thinking about spending money on a home, you must ask yourself several questions, which includes, but is not limited to:
Is there enough money in my account to cover a down payment?
Is my monthly salary steady enough to cover the mortgage in the near future without going into default?
If you answered no to either of these, renting an apartment might be the best option for you because it makes financial sense.
Renting an Apartment is Better than Owning a Home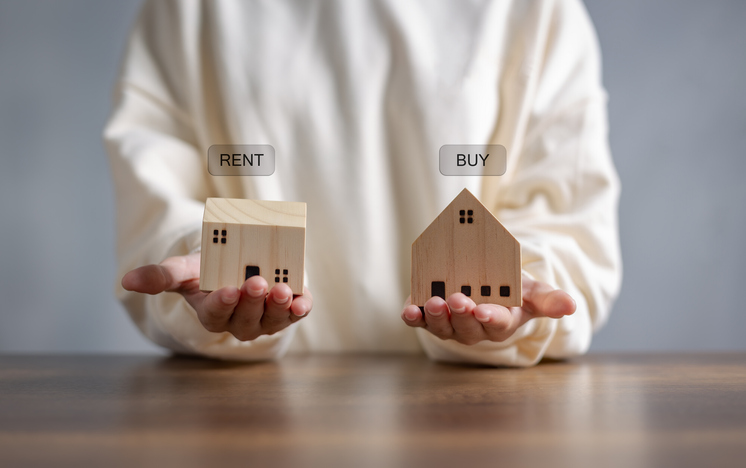 Renting an apartment is less expensive than buying a house, even though it may cost a few thousand dollars to pay for a security deposit, one month's rent, and a rental application fee to move-in to your new apartment.
In addition, you won't have the same maintenance chores as a homeowner, which means you will have more time for leisure and other pursuits. So, if you are debating whether to rent an apartment or buy a house, we are here to provide you with all the reasons you should choose the former.
Here are the reasons why you should consider renting an apartment rather than buying a house:
● Less Costly: Fewer Upfront Cost
● No Maintenance Costs or Repair Bills
● Less Time Commitment to Cleaning and Other Home Maintenance Duties
● No Property Taxes
● You Do Not Need to Carry Mortgage Debt
● More Freedom and Flexibility as to Where You Live
● Flexibility to Downsize if Desired or Needed
● You will have Lower Utility Costs
● No Worrying About Decreasing Property or Home Values
● Access to Amenities
● Renters Insurance is Much Less Expensive than Homeowners Insurance
● Homeowners Association Fees Generally are Not Your Problem
● You will Build a Sense of Community
Less Costly: Fewer Upfront Cost
Renting a home requires less financial commitment than buying a home. To be safe, you should save up for six months worth of rent, a security deposit, a rental application fee, a pet deposit if applicable, logistics costs, and other miscellaneous fees.
We recognize that apartment hunting involves spending potentially a few hundred dollars, but this is a small price compared to housing prices. A home requires 20% of the home value as a down payment. For example, if the house sells for $200,000 (purchase price), you will have to pay $40,000 as a down payment, which is a significant sum to pay upfront. In addition, the closing costs for buying a house are also another expense to incur.
That said, if you are on a tight budget, renting an apartment within your price range is a better option than buying a home.
No Maintenance Costs or Repair Bills
Landlords are responsible for the repairs and maintenance of the apartment. They always have emergency contacts or online platforms to send your repair requests through. However, to avoid confusion about who will pay for repairs and maintenance, you should always review your apartment lease agreement and seek a provision stating who will pay for them. Find out what is considered a maintenance emergency in an apartment here.
In a home, on the other hand, you are responsible for everything, including repairs and maintenance. This means that if something breaks, you must bear the cost of repairing it. Furthermore, it is up to you to find reliable plumbers, electricians, cleaners, or lawn services. Many apartments have all of these services vetted for you, so you won't have to worry about whether or not the plumber will show up or if they will do a good job.
Less Time Commitment to Cleaning and Other Home Maintenance Duties
Learning how to adjust to apartment living lets you focus on more essential things rather than worrying about who will mow the grass or fix the lighting or plumbing. Apartment buildings have designated plumbers and electricians to respond to any emergency requests from tenants, which is more difficult if you live in a home because you have to find reliable tradesmen yourself.
The allure of owning a home and living the "American Dream" might cloud your judgment, causing you to overlook the fact that cleaning your apartment takes a fraction of the time it takes to clean a home.
If you cannot clean the home yourself, hiring someone to do it is another option that will cost you a few hundred dollars, but make more sense.
No Property Taxes
If you rent an apartment, you do not need to pay property taxes. Property taxes are the unit owner's responsibility. Most aspiring home buyers/potential buyers ignore the property taxes and homeowner's insurance expenses when they initially purchase, which can quickly add up to a significant financial burden if not planned for properly.
You Do Not Need to Carry Mortgage Debt
Mortgages are frequently thought to be good debt; however, this is not totally accurate. Even if you are building equity over time, the monthly mortgage payment (considering mortgage interest) can be burdensome if your income is not consistent. If you want to build equity, that is fine, but defaulting on a mortgage can result in losing the property entirely.
For your information, equity is the difference between your home loan balance and what you can sell your own house for in the current housing market. If you want to sell your house fast, head over to webuyanyhouse.co.uk.
Renting an apartment relieves you of the burden of mortgage payments; all you have to do is pay your rent on time. Even if you fail to pay, the worst that can happen is that you will be evicted, which is a minor inconvenience compared to losing your own home that you may have invested thousands of dollars in.
More Freedom and Flexibility as to Where You Live
The best thing about renting an apartment is the freedom to live wherever you want. You can move at any moment if necessary or if you desire something that a home may not provide.
Rental properties can easily be found near an affordable city, unlike homes where you may have to live in the suburbs, or maybe another option could be expensive townhouses. If you need to relocate for work or a change of scenery, you may have to break your apartment lease. If you live in a house, though, you may need to sell it first before thinking about relocating.
Flexibility to Downsize if Desired or Needed
It is simple to downsize when you live in an apartment, whether it is for financial reasons or simply to be more of a minimalist. The first reason is that you have fewer household things in comparison to other people living in homes. Secondly, it will cost you less to downsize in an apartment than in a home. Find out how to downsize from a house to an apartment here.
You will have Lower Utility Costs
One of the biggest perks apartments have over homes is the utility bills. Most apartment tenants pay lower utility bills compared to those living in homes. For example, heating or cooling a larger home will consume a lot more energy than heating or cooling a 1,000 sq. ft. apartment. This implies spending more money on energy in homes than in apartments. Learn how to lower your electric bill in an apartment here.
Furthermore, some apartments include utilities in the rent, so you don't have to worry about them once you have paid your rent. Check whether utilities are included in the rent while you are looking for an apartment. If they are, figure out which utilities you will be liable for and which the landlord will cover. Learn how to find apartments with utilities included here.
No Worrying About Decreasing Property or Home Values
Whether the apartment complex loses or gains value makes no difference to you as a unit renter. When a homeowner's property value drops, however, he stands to lose a lot of money and has a lot to worry about the selling price/asking price.
For example, if a home is worth $300,000 and the value drops by 20-25%, the homeowner will lose up to $75,000. However, if your apartment lease agreement specifies that your rental payments as $2,500 each month until it expires, you will pay that amount regardless of the property's value increasing or decreasing.
Access to Amenities
Most apartment complexes feature a variety of amenities that you would not get in a home. For example, you may get access to a swimming pool, clubhouse, fitness center, and/or playground, among others.
If a homeowner wants to enjoy the same benefits, he will have to construct a swimming pool or a fitness facility, in most cases, which can be expensive. Besides, the cost of maintaining such amenities is equally high; hence any extra amenities will result in higher maintenance costs. On the other hand, the landlord is responsible for maintaining the swimming pool and other common areas in apartments.
Renters Insurance is Much Less Expensive than Homeowners Insurance
Homeowners must have insurance coverage, which is far more expensive than what most renters pay. Renter's insurance is often cheaper and covers almost everything, including computers and furniture, among other household items.
According to a report by the Insurance Information Institute, the average cost of homeowners insurance is $1,249 per year, while the average cost of renter's insurance is $179 per year.
Homeowners Association Fees Generally are Not Your Problem
Although it may appear crazy, homeowners association fees in some neighborhoods may be substantially costlier. According to Realtor.com, on average, homeowner's association fees (HOA fees) run around $200-$300 per month (monthly payment).
When you factor in monthly house maintenance, utility bills, homeowner's insurance, and mortgage payments (monthly payments), you can see how costly owning a home can be. If you rent an apartment, homeowners association fees will not be any of your concerns or worry.
You will Build a Sense of Community
Living in a rental property lets you interact with other people who share your interests and gives you a sense of belonging. In comparison to living in a home where your next-door neighbor is a little more ways away, the proximity between you and your next-door neighbor in apartments improves the likelihood of interactions due to sharing common grounds.
Things to Consider when Renting an Apartment
Now that you understand the financial benefit of renting an apartment as your primary residence, you should use some tips when searching for an apartment, such as:
● Home's Location: The Proximity of the Apartment to Nearby Amenities
● Estimate Your Rental Budget
● Pet-Friendliness of the Apartment Community
● Natural Lighting
Always Make the Best Choice
In conclusion, renting an apartment is the best choice compared to home buying. If your income is irregular (financial situation) and you move around a lot, renting an apartment will help you save money and offer more flexibility.
Comparing renting versus buying a home, renting wins! It is even less costly to pick home renting rather than the actual purchase (home ownership). Although homes bring a sense of stability and some tax deductions along the way, the aggregate cost is way higher than that of an apartment.
It is important to prioritize financial health by renting an apartment rather than purchasing a property that might suck you dry and leave you in financial distress.