1 Bedroom Apartments in Farmington Hills, MI
Size: 750 sq.ft.
Rent: $975*
*year round rate
*water and gas included
*electric bill NOT included
Virtual Tour
Floor Plan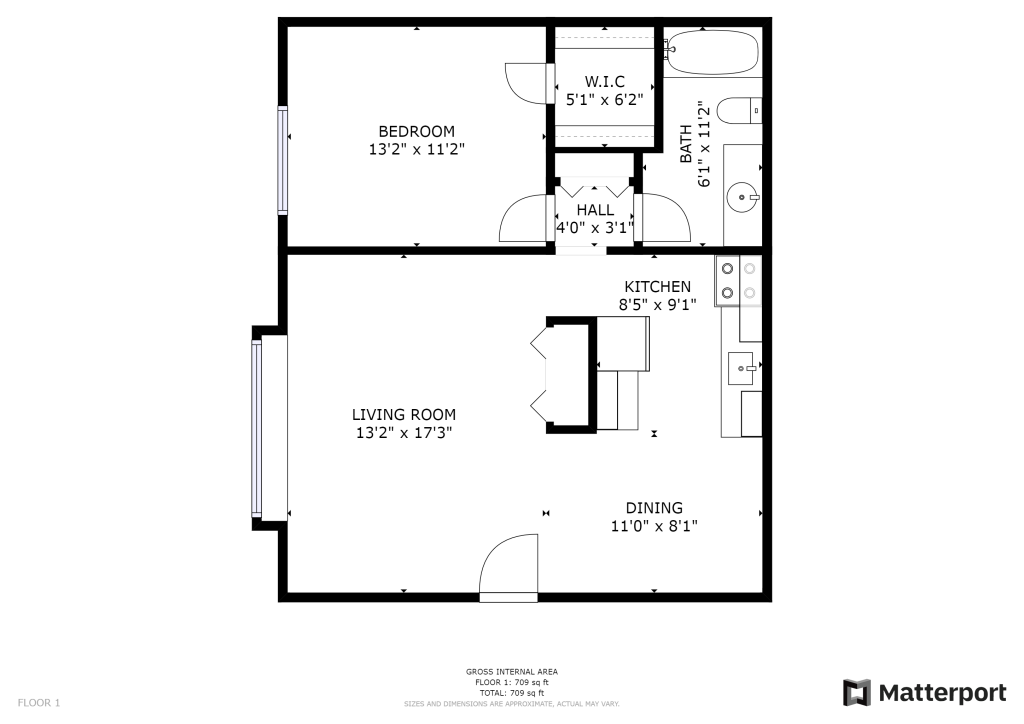 Image Gallery
Overview
1 Bedroom Apartments in Farmington Hills, MI
Though Botsford Place Terrace Apartments offers 3-bedroom apartments for rent in Farmington Hills, MI, upgraded 2-bedroom apartments in Farmington Hills, MI, and classic two bedroom apartments for rent in Farmington Hills, MI, at more affordable average rent rates than any of the competition, our one bedroom apartments are our most common layout.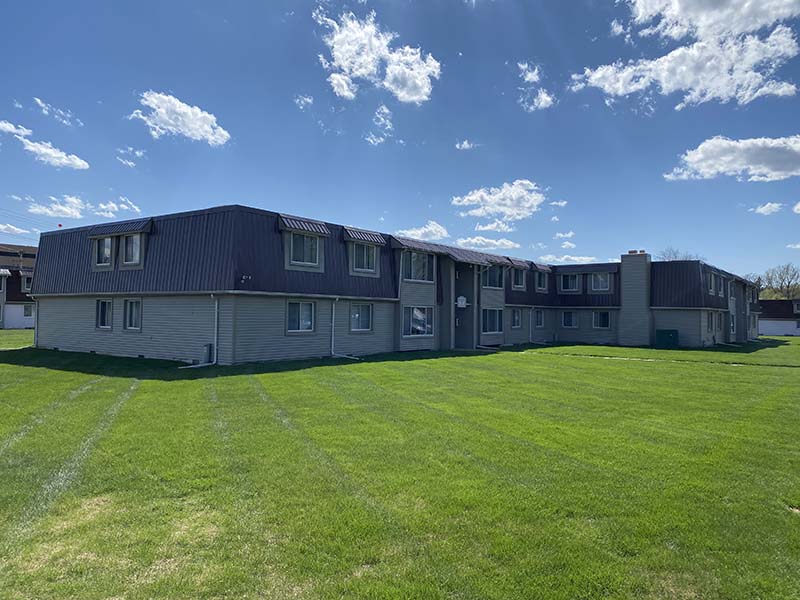 Our cozy, yet spacious, one bedroom apartments in Farmington Hills, MI are a perfect choice for a young professional, a couple or even a smaller family, complete with fur babies.
Each available 1-bedroom apartment for rent, at our Farmington Hills, MI property, has its own unique style.
Our 1 bed/1 bath apartment for rent residents, in Farmington Hills, MI, enjoy modern home comforts with our traditional floor plan/layout, including:
●      Spacious Living Room
●      Open Kitchen, with a Dining Area
●      Large Master Suite
●      Walk-In Master Closet
With neutral tones and plush carpeting, you can easily make any of our Farmington Hills one bedroom apartment for rent here a contemporary dream come true.
Notable One Bedroom Classic Apartment Features
Here at our Farmington Hills property, the oversized 1 bed/1 bath apartment windows are welcoming, and the living room provides plenty of comfortable living space, which you won't find in your typical studio apartment.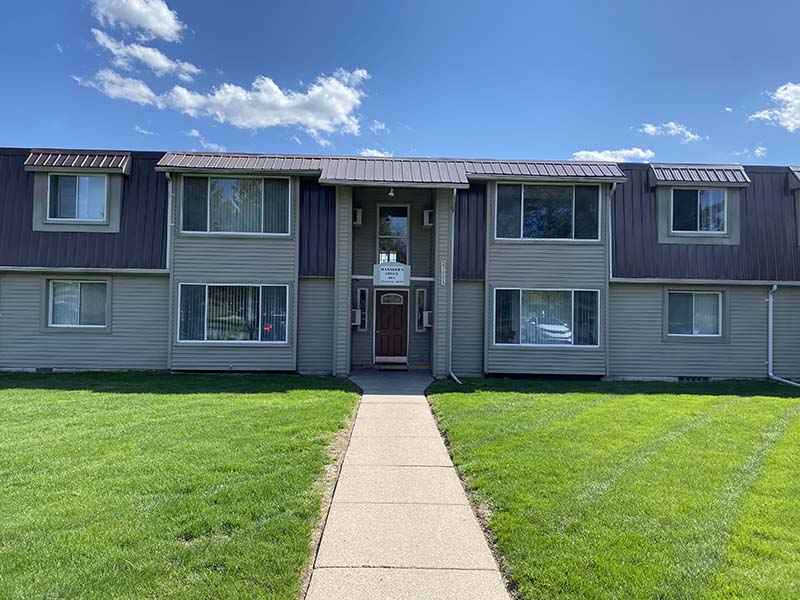 What's more, the focus of our affordable, yet contemporary, Farmington Hills apartments for rent is balance. Thus, certain apartment areas, like the living room, are oversized, which allows for endless design/décor possibilities.
In fact, there is enough space to create a relaxing place to gather with friends and family, along with a small home office area. Check it all out via our virtual apartment tour.
In-Depth Look at Our One Bedroom Classic Floor Plan
The entry hall of our classic 1 bed/1 bath unit leads to the main room, which is divided into two sections.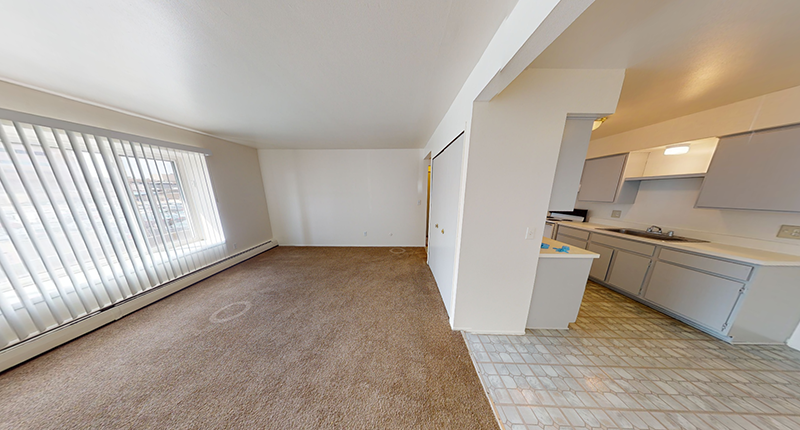 The kitchen and dining area provides plenty of room and first-class appliances (oven, range and refrigerator) for your cooking.
The master suite, spa-like bathroom, and linen closet are located down the hall from the main living space.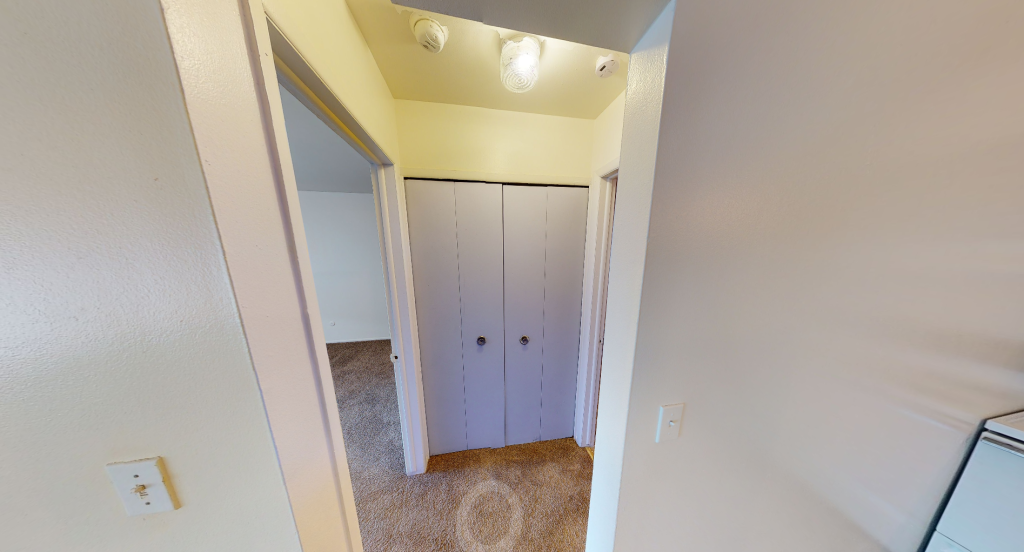 This is just a quick overview of what your future 750 square feet 1 bed apartment dream home for rent has to offer. Read on for a more in-depth look.
1-Bed Master Suite Bedroom (13'2 x 11'2)
The bedroom is large enough for a queen or king-sized bed, and it fits most modern bedroom sets.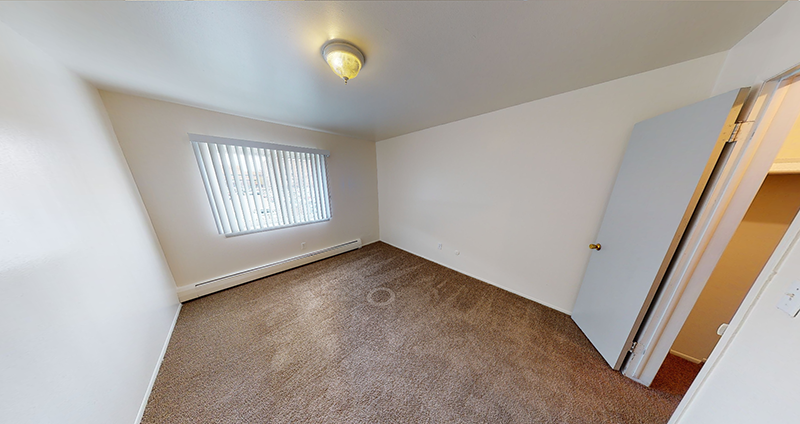 Our 1 bed/1 bath units also feature walk-in closets, which offer plenty of storage room for all of your belongings.
Some of these units have plush carpeting, while others have hardwood floors in the master bedroom.
1-Bed Walk-In Closet (5'1 x 6'2)
As briefly mentioned, all of our one bedroom units have a sizable walk-in closet that can easily be used as a fully-functional his and hers wardrobe, with equal storage space on both sides.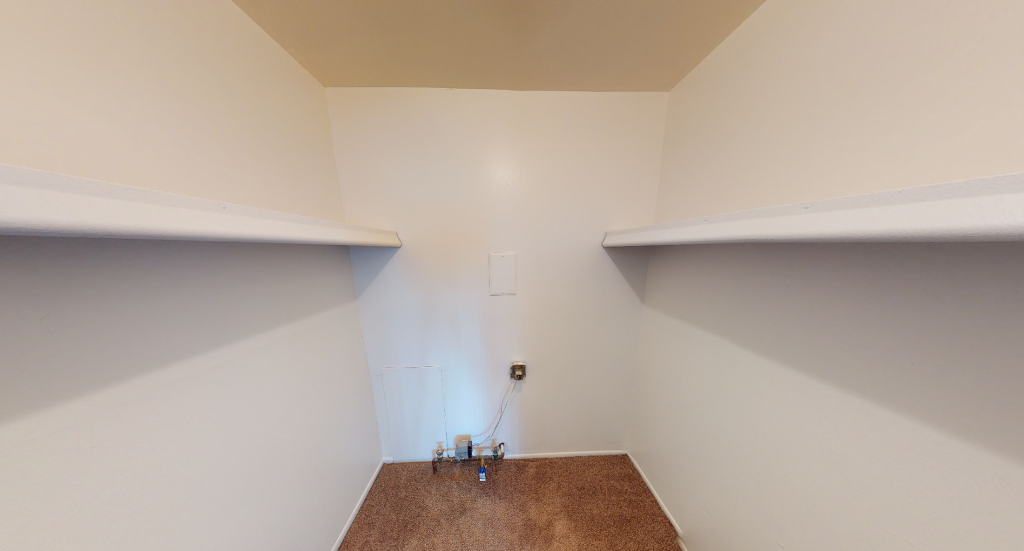 There is also a linen closet, with ample shelving, on the other side of the walk-in closet, in the hallway.
1-Bed Living Room (13'2 x 17'3)
One of the major highlights of this floor plan is its expansive living space.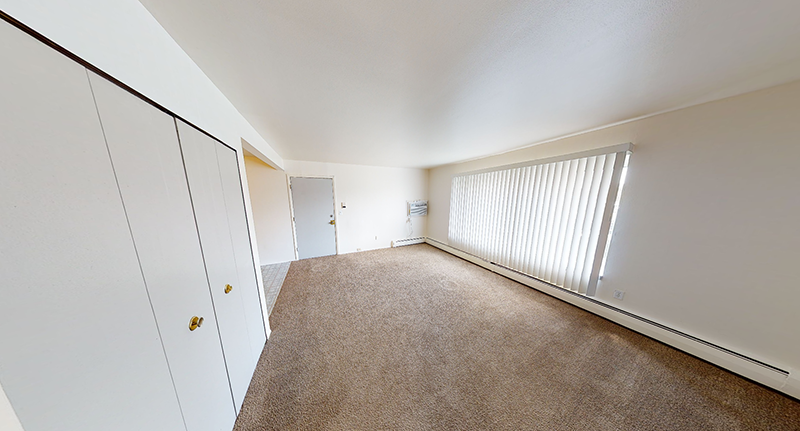 As suggested above, this space can easily be converted into two separate areas, with an inexpensive room divider or room dividing furniture.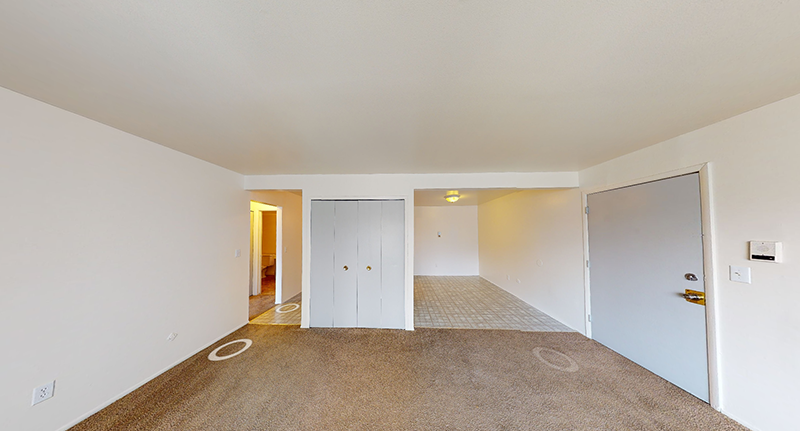 Every apartment also has its own air conditioning unit here.
Kitchen (8'5 x 9'1)
All kitchens are fully equipped and situated perfectly for entertaining guests in this comfortable home.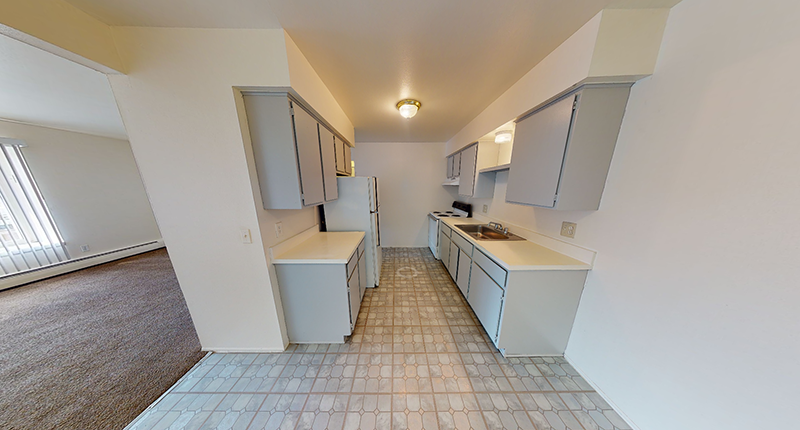 Here, with the classic one bedroom layout, you will find modern cabinetry, brand-name appliances, easy-to-clean vinyl flooring, and an adjacent dining area.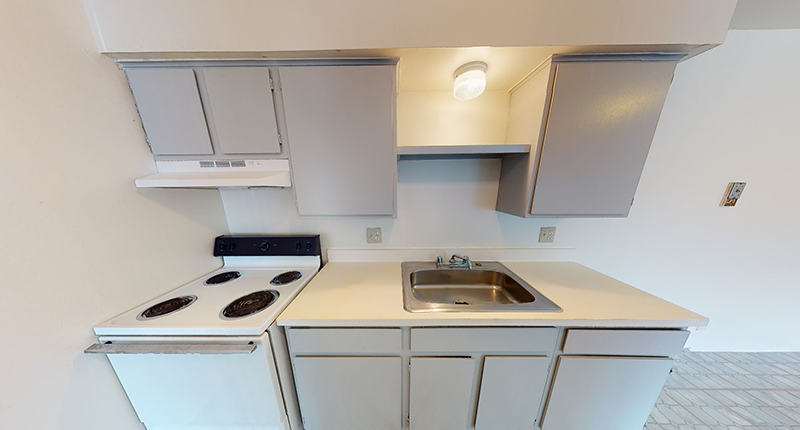 This particular dining space is large enough for a four-person dining table, and has separate lighting.
1-Bed Dining Room/Space (11'0 x 8'1)
Our one bedroom rentals also offer a spacious dining area.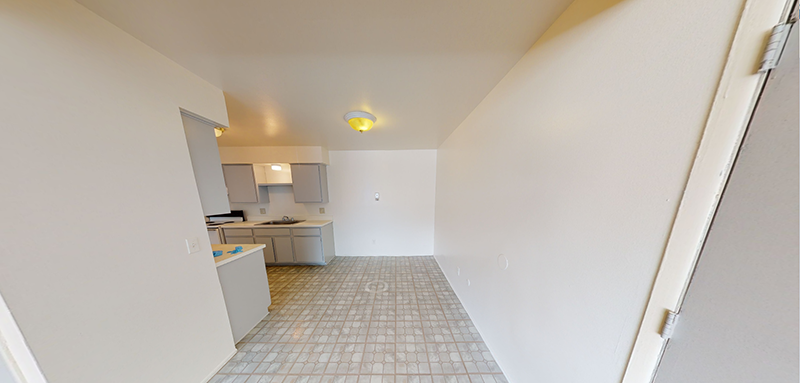 Many residents choose a simple table or dining set in this space, but there is room for a kitchen hutch and additional storage shelves for your pantry goods — if you so choose.
Spa-Like 1-Bed Bathroom (6'1 x 11'2)
All rentals at our Botsford Place Terrace Apartments property have updated spa-like bathrooms, with custom cabinetry, oversized vanities, spacious shower/tub combos, vinyl flooring and contemporary design touches, like sculpted fixtures.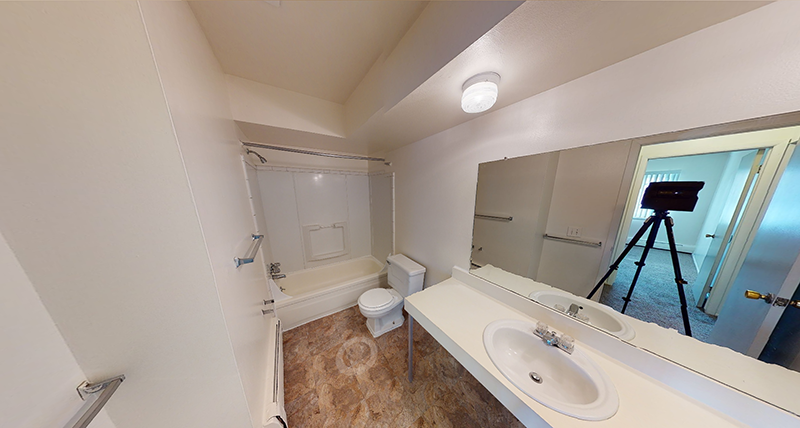 There is also an abundance of clever bathroom storage, beauty lighting, towel bars, and more.
That said, the bathrooms in our Farmington Hills units still offer a blank canvas for the inner-decorator in you.
In-Unit Appliances
The traditional one bedroom comes with brand name, modern appliances, which includes a refrigerator, oven, range, garbage disposal and air conditioning.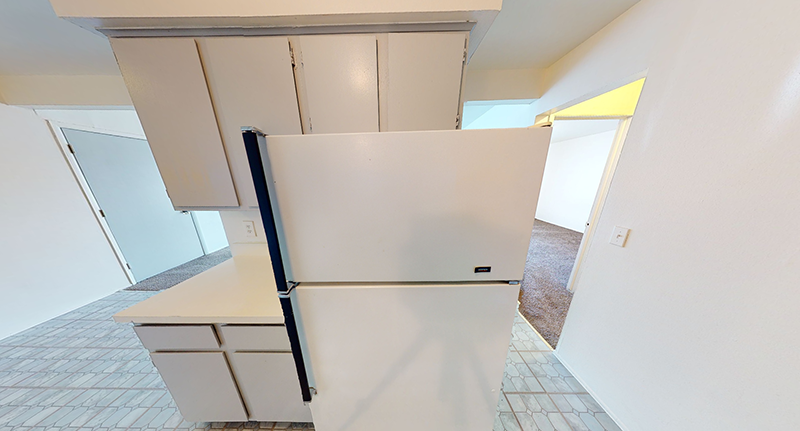 Washer/dryer laundry facilities are located on-site as well.
Available Apartments for Rent Amenities
●      Plush Stain-Resistant Carpeting
●      Neutral Wall Paint
●      Vinyl Kitchen and Bathroom Flooring
●      Walk-in Closets
●      Vertical Window Blinds
●      Energy-Saving Light Fixtures
●      Spacious Living Room
●      Eat-In Kitchen
●      Garbage Disposal
●      Oven
●      Range
●      Refrigerator
●      Dining Room
●      Tub/Shower Combo
●      Custom Cabinetry
●      Efficient Heating System
●      Air Conditioning
●      Cable Ready
●      Internet Ready
●      Suburban Setting
These amenities found here are by far more than you will find in any studio apartments across all of Farmington Hills, MI.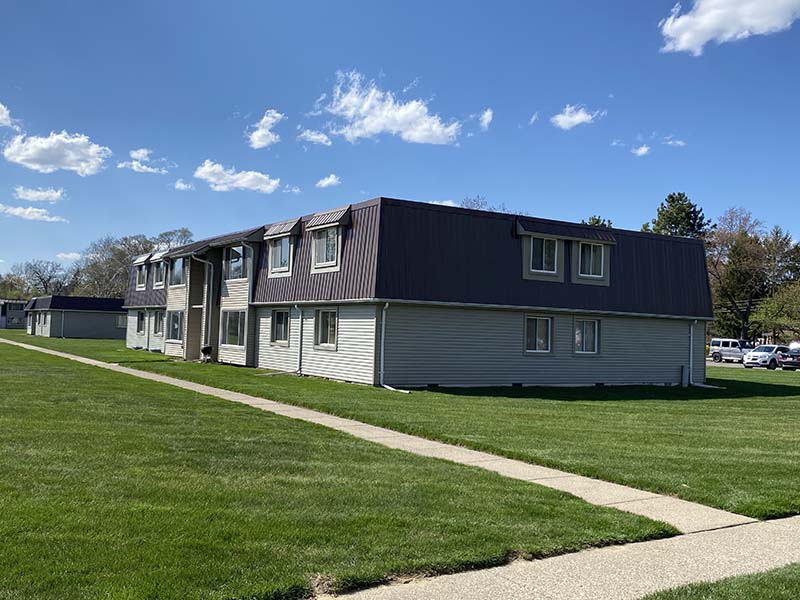 Rent Terms: Affordable and below average rent rates, security deposit requirement, one-time application fee, and several leasing options are available. *Discounted rent rates sometimes available.
Rent Price includes: Average apartment rent includes most utility costs (gas, water, garbage disposal/trash removal, sewer, etc.) We simply offer some of the best apartments in Farmington Hills, MI with utilities included.
Parking Policy: Each one bed apartment for rent, in Farmington Hills, MI, comes with a single designated parking spot. There is also ample additional guest parking.
Pet Policy: We are both cat and dog friendly, with certain breed restrictions for dogs. Plus, there is a two pet limit per apartment home.
Contact property management at the leasing office to learn more about our cat and dog-friendly apartment pet policy, one-time nonrefundable fee, and average monthly rent for pets, as well as all other apartment related info.
Community Features
Our Farmington Hills apartment community is conveniently located just a five minute walk/bike ride from outdoor Farmington Hills parks and recreational centers, for all ages.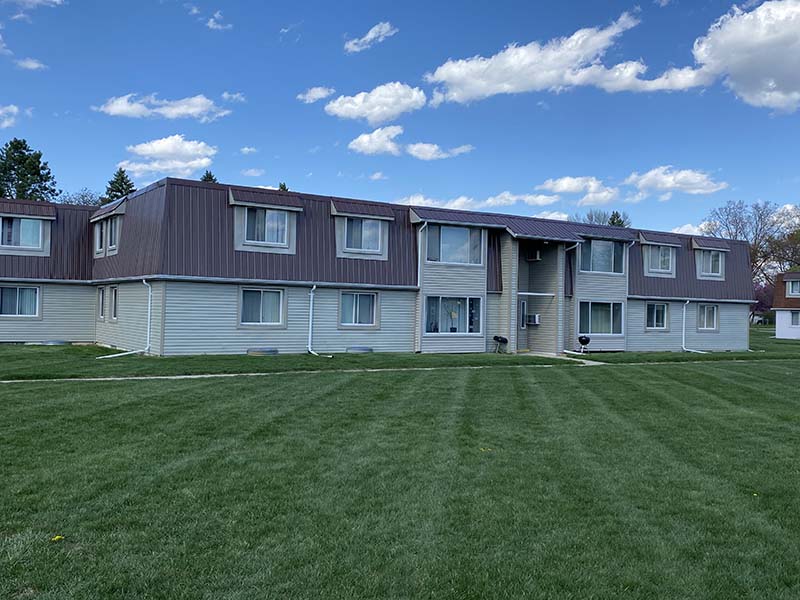 Explore the local Farmington Hills neighborhoods, visit the best restaurants in Farmington Hills and nearby shopping. Simply ask our 24/7 team about anything you would need.
More community features include:
●      Controlled Access
●      Maintenance On-Site of the Property
●      Washer/Dryer Laundry Facilities
●      Reasonable Cat & Dog Friendly Pet Policy
●      Package Service
●      Playground
●      Picnic Area Around the Property
●      Planned Social Events on the Property
●      Property Manager On-Site
●      Restaurants
●      Medical Services
●      Top High Schools, Top Middle Schools, & Top Elementary Schools
●      Public Transportation
●      Nearby Cities include Detroit & West Bloomfield
Nearby Colleges and Universities
Schoolcraft College – less than 10 mins. away (4.1 mi via map data 2021 Google)
Oakland Community College – a short 16 mins. drive (6.3 mi via map data 2021 Google)
Madonna University – only 14 mins. away (6.5 mi via map data 2021 Google)
Parks and Entertainment
Recreational activities near Botsford Place Terrace Apartments' real estate property are plentiful.
Discover several Farmington Hills parks that are only minutes away, including Heritage Park, Woodland Hills and Memorial Park.
Our Farmington Hills, MI community, in Oakland County, is also near major cities such as Detroit (where you will find the Detroit Opera House), East Lansing, MI and Grand Rapids, MI.
Detroit Metropolitan Wayne County (DTW) Airport
Living in Farmington Hills, MI provides easy access to Detroit Metropolitan Wayne County Airport, which is located just 30 minutes from our Botsford Place Terrace Apartments property.
Take Away
1 bedroom apartments in Farmington Hills, MI, at our Botsford Place Terrace Apartments real estate property, offer more than just the utmost in modern design and convenient apartment living.
Our convenient location in Farmington Hills, MI brings a world of recreation and entertainment, along with the history of Farmington Hills, MI and cultural activities, right to your doorstep. Not to mention, we are close to major cities like Detroit and East Lansing, MI, which makes your commute time a non-issue.
With our Farmington Hills, MI apartments to rent, you are right around the corner from everything (by car or via public transportation). What's more, you will find a host of everyday conveniences just around the corner.
We can't wait to show you all the ins and outs of our Botsford Place Terrace Apartments real estate property, located at 27883 Independence St, Farmington Hills, MI 48336.