Living in a house comes with many responsibilities, such as high utility bills and maintenance chores, to name a few. In comparison to its counterpart, apartment living is less stressful.
The landlord often handles major obligations. As a result, when compared to a homeowner, you have fewer worries. Downsizing is good when moving from a home to an apartment.
With that said, the process of downsizing, for whatever reason, is not always simple. If you don't plan ahead of time, it could go wrong.
How to Downsize from a House to an Apartment
Downsizing can be stressful as you try to find out how to fit all of your stuff into a smaller apartment with a smaller floor plan. However, if you know how to manage the process, you'll likely lessen your worry and wind up with a gorgeous home that doesn't leave anything out!
Many people reduce their living space to save money. Moving to an apartment, though, has other advantages. Apartment dwellers, for example, will have more time for recreational activities instead of focusing on maintenance and other household responsibilities on weekends.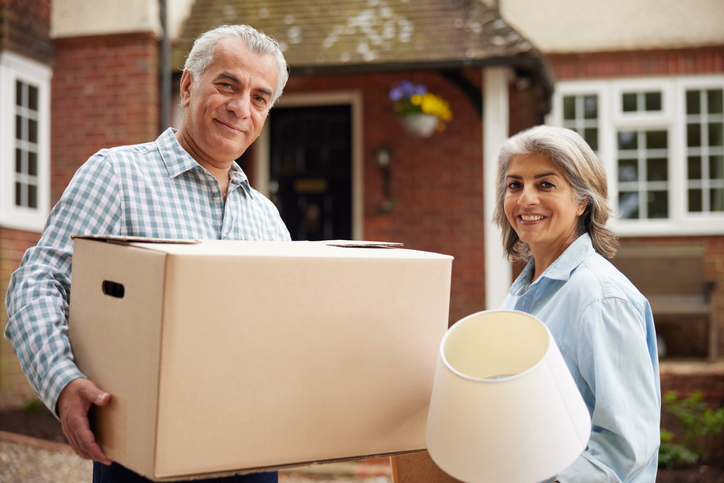 According to the Census Bureau, the typical size of a new house built in the United States in 2016 was 2,422 square feet, while the average size of a newly constructed apartment rental was 1,085 square feet.
According to the estimates above, your new apartment square footage plan may be half the size of your current house, so you'll need to prepare not only physically, but also mentally.
So, what's the best way to downsize from a home to an apartment? Let's have a look at some great tips:
●       Prepare Ahead of Time
●       Learn to Live with Less
●       Sell, Donate, or Throwaway
●       Consider Storage Solutions
●       Optimize Space in Your New Apartment
●       Get Started Early
●       Change Your Habits
Prepare Ahead of Time
When it comes to moving into an apartment, whether a one bedroom or condos, preparation is key.
Before you begin the packing process, double-check that everything is in order. It will save you time if you have a blueprint of the entire process.
The first thing you need to figure out is how much space you have. You can also measure all the rooms. At the very least, you'll be able to discern if your favorite pieces of furniture will fit in your new place with the help of a room plan.
When you have no notion of what you own in the first place, it's tough to know what to throw away. As a result, go through everything you own and write a list of what you think is significant and what you don't.
If you have a large collection of books, for example, you may not have the new space to store them all. So, choose your favorite books and donate or sell the rest.
Please note, as a homeowner, you have complete flexibility to do whatever you want with your property, but if you're moving to an apartment, read the apartment complex's rules and become familiar with them.
If you want to throw large gatherings, for example, make sure you find out if it's allowed.
Learn to Live with Less
As previously stated, relocating from a house to an apartment ideally means having less room than your existing residence. As a result, learn to live with less and buy less, as even one more thing can make a significant difference.
The benefit of purchasing just a few things is that you will save money. Additionally, because your new apartment has fewer rooms than your existing residence, you will spend less time cleaning.
You can use the money you've saved and your free time to accomplish things you've always wanted to do, such as go on a trip or visit parks.
Many people view downsizing as a negative experience, but view it as an opportunity for a new beginning.
Sell, Donate, or Throwaway
Selling things you don't need can help you earn a little additional cash.
Selling stuff is common on websites like Craigslist and eBay. Also, consider informing your acquaintances about the items you plan to sell; you never know who could be interested in purchasing them right away.
Unless you have high-end furniture, designer apparel, or diamond jewelry, the chances of getting your money back are slim to none. Consider holding a yard sale to get rid of any unwanted goods, particularly furniture pieces and large objects.
The truth is much of your old stuff was just collecting dust, so selling them will certainly give you something rewarding.
Consider donating stuff that you can't sell or haven't been able to get rid of. Also, take worn-out items to a recycling center if they aren't suitable for donation or resale.
It might be difficult to say goodbye to sentimental items. If you have a lot of things and wish to downsize, one smart suggestion is to save one or two of them and the photos of the rest in a scrapbook.
Optimize Space in Your New Apartment
The first step to maximize space in an apartment is to purchase storage solutions. Purchase shelving, hooks, hangers, and baskets as needed. As a result, you can avoid clutter from forming.
Consider purchasing new furniture pieces that can serve double-duty. For example, get a couch that can be used as a guest bed so you don't have to worry about where you'll put the additional bed. Furthermore, furniture with additional storage compartments might save you a lot of money.
Consider Storage Solutions
If the storage solution above doesn't fit everything you have, consider renting storage nearby. If the apartment basement usage isn't enough, friends can be crucial in helping you store some extra stuff you don't need frequently.
Fortunately, most apartments come with a storage unit, but that may not be enough to keep all of your home items. If storage is a major concern, look for an apartment close to a storage facility where you can retrieve your belongings at any time.
Get Started Early
The worst thing you can do is put off shrinking until the last minute. That won't leave you enough time to find purchasers for the excess items you'd like to get rid of. As a result, think about starting the process as early as possible.
As previously stated, make a list of what you wish to keep and what you will toss away or donate. Early on, toss the goods you don't need and only keep what you'll be taking to your new place.
Starting early will also make your relocation easier because you won't have as much to worry about.
Change Your Habits
You may need to approach things differently. Adopt a one-in-one-out policy, for example, and think about quitting your collecting obsession.
You no longer have the luxury of new space, and anything you bring with you may not be able to be stored.
Five Benefits of Downsizing
Many homeowners are learning that more isn't always better when it comes to "living large." Whether you are downsizing willingly or due to a circumstance, there are some advantages to downsizing from a larger space to an apartment.
The top five advantages of downsizing are listed below:
Spend Less Money on Luxuries
Enjoy the Advantages of Living in a Smaller Space
Save Energy Living in a Smaller Apartment
Pared-Down Lifestyle will Assist in Staying Debt-Free
Downsizing Allows You to Travel More Freely
Spend Less Money on Luxuries
When you have extra new space in your house, feeling compelled to fill it is normal, which means more expenditure. However, because you have less space, you will spend less money on unnecessary purchases.
Enjoy the Advantages of Living in a Smaller Space
Cleaning, maintenance, and other routine tasks are always a source of anxiety. It is also expensive to maintain your grass regularly. You'll have less to worry about if you downsize your life.
Downsizing from a house to an apartment will surprise you with how much more time you have for other activities after your daily responsibilities are reduced.
Save Energy Living in a Smaller Apartment
Utility costs in homes are always more expensive than those in apartments. Your monthly energy bills will be reduced if you downsize. As a result, you'll have extra cash to spend on a trip or a park visit with your family.
Pared-Down Lifestyle will Assist in Staying Debt-Free
Downsizing your property will save you money by preventing you from overspending and paying too much for it.
When compared to your existing home, living in a smaller apartment means having a lower budget. You won't be driven to buy anything extra for your home because you don't have the extra storage.
Because there isn't enough space, you'll have to cut back on your expenditures and save more money.
Downsizing Allows You to Travel More Freely
You'll have more time to spend with your family if you don't have as many domestic tasks. You'll be shocked how much time your big house responsibilities used to consume if you reduce.
Final Thought
If you choose to downsize, you will reap numerous rewards. The process is, however, fairly intimidating and necessitates appropriate organization before the relocation.