Renting an apartment and getting your own place for the first time can sometimes be challenging, especially for students. This can be attributed to the restrictions and laws relating to entering a contract.
Different landlords may have different age preferences for tenants renting their apartments, and a person must be of legal age, but it is illegal to be discriminated against based on age when renting an apartment.
What Age Can You Get an Apartment?
Most laws throughout the U.S. have set the legal age to enter any contract at 18. This includes signing a lease during the rental application process.
Some landlords don't emphasize much on the age of a prospect that is interested in renting an apartment. However, you might get some that have certain age preferences.
Why Landlords Avoid Renting to Young Tenants
There are justifiable reasons why rental companies and landlords might deter students and young people from renting their units.
For instance, most 18–22 year olds lack an established credit history. Many landlords use a credit report as a part of their review process of potential tenants in order to determine who is approved for their apartment. Learn more on what credit score do you need to rent an apartment here.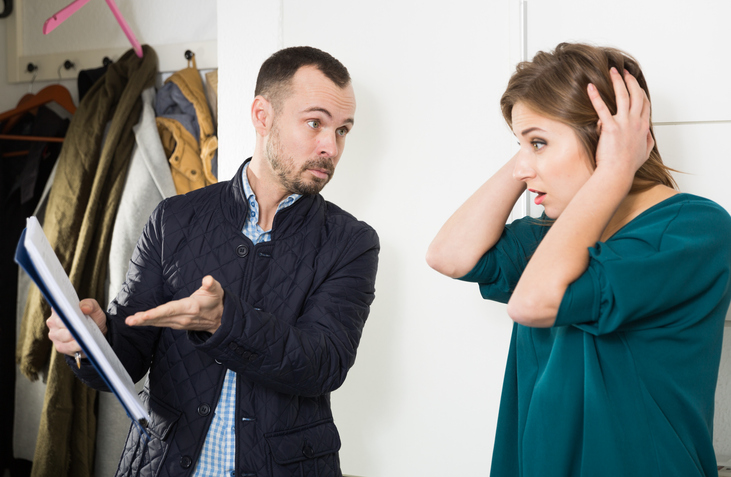 You might also be forced to have a savings and checking account. This is something that minors or younger individuals may not have.
Landlords will also typically ask for the employment history of their potential tenants. Those below 18-years old usually have little, if not nothing, to show when it comes to employment. Some may have just gotten their first or new job.
Landlord Fears
Landlords fear dealing with tenants in college or teenagers since they're known for being irresponsible and partying most of the time, on average. Apart from destroying the apartment property, they're also likely to fail to pay their rent on time, or at all.
The same thing is seen in the car rental business, where you're only allowed to legally rent a car when you're at least 25-years old.
With that said, there are ways to overcome such obstacles and achieve the process of finding an apartment, even if you're younger.
Apartment Renting Rules for Minors
By law, as we have touched on earlier, minors aren't legally allowed to enter into binding contracts. For this reason, landlords require them to identify an adult, normally their guardian or parent, to co-sign the rental agreement on their behalf.
In such a situation, the guardian or parent becomes financially responsible if the minor damages the property or fails to pay their rent. This is mainly common for underage students renting an off-campus apartment. In most cases, their parents pay the rent and sign the rental agreement (checkout our guide on Does cosigning for an apartment affect your credit?).
Emancipated Minor Issues
Any minor can appear before a court of law and seek to be declared emancipated. This gives them a chance to be considered adults and possibly enter into contracts before the legal age.
In such a case, landlords or property managers can rent to minors without guardians or parents cosigning. However, a minor should provide proof to show that they were emancipated. They should also have a track record of paying rent without challenges.
Apartment Renting Age Discrimination Rules
According to the Fair Housing Act, landlords are prohibited from discriminating against tenants based on color, sex, national origin, race, or religion. There was also an amendment in 1988 that further prohibits discrimination based on disability and familial status.
As per the act, no landlords should refuse to rent their apartment to a tenant with children. With that said, the law doesn't address age discrimination implicitly, however a landlord can decide not to rent to someone that is younger due to their lack of rental or credit history.
Making a Case to Rent an Apartment
Regardless of your age as a tenant, you need to prove that you can pay the required monthly rent. Your potential landlords will most likely inquire about your financial circumstances, run a credit check, and ask for your pay stubs or bank statements as proof of income.
Landlords will require you to pay, at very least, the first month's rent and security deposit prior to moving in. Some may also require you to pay the last month's rental fee too.
Requesting a Trial Period for Renting an Apartment
Most landlords are reluctant to rent their apartments to younger individuals, even emancipated minors. Younger people might get lucky and be accepted to rent a room in a private individual's home or a garage apartment, however they should be ready to give the landlord references from their teachers, responsible adults, and employers.
If the landlord doesn't allow you, as a younger individual, to rent, asking for a trial period arrangement for a few months is not unheard of. If approved, be sure to not be messy during the trial period, avoid being a noisy neighbor, and pay your rent on time.
Dangers of Co–Signing when Renting an Apartment
As a parent or guardian of minors who seek to rent an apartment, you should be aware of the dangers associated with cosigning. As a co-signer, you'll be required to pay the monthly rent and the cost of damages throughout the lease term.
If you fail to pay the rent or damage costs, a landlord or rental company can sue you, and a court collection or judgment can end up on your credit report.
Renting an Apartment at 17–Years Old
As we have seen, most U.S. states set the legal adulthood age at 18. At this age, you can enter into a binding rental contract.
By law, landlords can refuse to rent their apartments to underage tenants. If the landlord goes ahead and rents the unit to minors, they will have a tough time enforcing the contract in case the minor damages the property or fails to pay their rent.
However, military service, marriage, or legal emancipation by the courts may allow any 17-year old to rent an apartment. A co-signer can also offer the financial backing and background required to acquire a rental in such a case.
How to Rent an Apartment at 17
As mentioned earlier, a legally emancipated minor is allowed to rent an apartment. As an emancipated minor, you can legally acquire adult responsibilities even before being a legal adult age. Even though the emancipation laws vary in most states, an individual that is less than 17-years old can be emancipated by joining the military, getting married, or by court approval.
Landlords or rental companies can also make exceptions for minors who wish to rent apartments, as long as they have parental consent. This mainly has to do with college students who attend school away from their parents house.
Meeting Basic Background and Screening Requirements
By law, a landlord and property manager can implement strict background and screening standards for potential tenants. Just like adults, a minor renting an apartment should prove their source of income (typically three times the rental amount), have sufficient credit, and show acceptable rental history.
The vast majority of 17–year old first–time renters living in their own apartment lack credit, however this is not the same as having bad credit. Nevertheless, limited credit and rental history present a higher risk for a rental company or landlord.
How to Compensate for Lack of Credit
A 17-year old renting an apartment needs to cover the monthly rent and rental deposit. In some cases, the landlords might request earnings statements, bank account statements, and proof of employment to determine whether they're able to pay rent.
Due to inconsistent, seasonal, part-time, and limited employment history, most underage renters find trouble meeting these rental requirements.
Having letters of reference from employers, responsible adults, or teachers might help meet the requirements. It might also help to offer paying a year lease upfront, if you save money and have the means to do so.
Bottom line is that the decision to rent an apartment to a minor is up to the property management company or landlord.
Why the Co–Signer is the Perfect Compensating Factor
A guarantor is held responsible to cover damages or pay rent on behalf of the tenant if they fail to. They are to act as an insurance policy to protect the landlord's business.
A guardian or parent that meets the minimum credit and income requirements, among other qualifications, can cosign and be part of the apartment agreement.
A guarantor should provide their assets, proof of income, credit history, and employment documents as a requirement. They will remain on the rental lease until the tenancy expires, or once the actual tenant is able to prove that they could qualify on their own. The landlord can then decide to do away with the guarantor when it comes for lease renewal.
Where Underage Renters Can Get Help
A minor who needs free or low-income housing can get help from government resources and nonprofit organizations, including various Housing Authorities.
Some states and cities also offer funding to permanently or temporarily house minors who risk becoming homeless. However, most programs require that renters be above 18-years old.
When a Minor Turns 18
What happens if a minor who is renting an apartment turns 18? In such a case, it's up to the landlord to remove the guarantor or not.
With that said, a landlord might still want to have the parents or guardians left on the lease for financial safety. It's common for the landlord to require a guarantor if an individual does not meet the retinal requirements, the tenant's age notwithstanding.
The Final Verdict
Many young adults find it difficult to rent their first apartment thanks to the restrictions on rental leases and contracts, especially for minors.
Most states, including Michigan, set the legal age for signing any contract at 18-years old. However, landlords and rental companies have their preferred age for renting their rental properties too.
Even though the legal age to sign contracts is 18, there are ways that minors can still rent an apartment. This is common with legally emancipated minors who are granted adult responsibilities, even before acquiring a legal adult age.
In most cases, you can be emancipated by joining the military, getting married, or by the courts. If you are unable to become emancipated, we recommend getting an approved guarantor so the landlord will rent their apartment easily to you.