In the view of current inflation and declining personal economy, apartment leases are fast getting out of reach for more people each month. This makes it likely that a close friend or family member might ask you to co-sign for their apartment lease. Their credit score might not be up to the mark, so they need that apartment co-signing to even rent an apartment for their basic shelter needs.
This co-signing might present a dilemma, as you don't want to offend any friend or family member. That person's credit report might not be good enough to rent an apartment on their own, so you're worried about how the co-signing might negatively affect your positive credit history.
Does Cosigning for an Apartment Affect Your Credit?
Before becoming a co-signer, many folks might be in need of some financial advice. While there are some apartments in Michigan that may accept bad credit, having a co-signer with good credit can make renting much easier.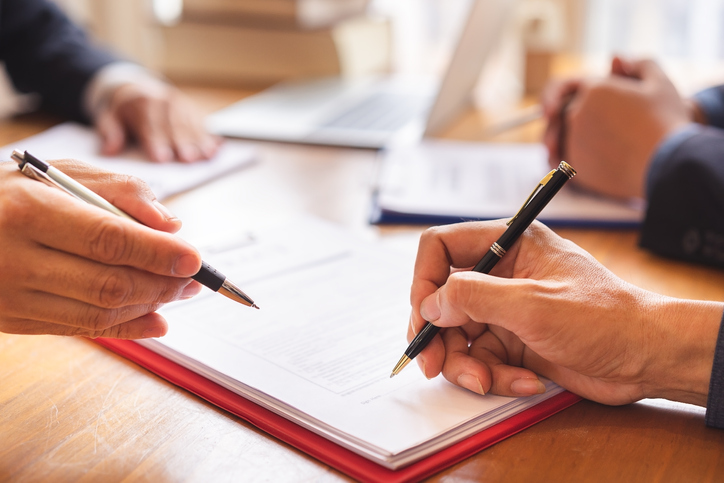 On the bright side, being a co-signer on an apartment lease will probably not negatively affect your own credit history. If you're in the process of finding apartments to rent in Michigan or anywhere else, read on for more details on this cosigning situation:
1. Cosigner's Credit
When you co-sign an apartment lease, it should not usually affect your credit. The main reason for this is that credit bureaus usually don't keep tabs on rental payments. These payments aren't typically a part of a credit report. The effect of this co-sign, in theory, should be neither positive nor negative.
With that said, if someone does co-sign their friend's apartment lease and the friend defaults, the co-signer's credit history will suffer.
Before you think about co-signing, you might want to give your friend tips for moving into their first apartment. These tips should include financial advice, especially when it's about maintaining credit scores and paying rent on time.
2. Understanding Negative Credit Rationale
If you co-sign an apartment lease, think of it as a co-sign for someone else's loan. With this inclusion, you are guaranteeing that somebody will pay the rent.
If the other person defaults, you will be the one left with the rental payments. Plus, the co-signer will also get the same negative credit on their credit report as the person who defaults.
3. Issues with Debt Collection
When tenants default on their rent payments, their landlord can and probably will go through a debt collection agency to get their rent payments. Those who co-signed the lease will also be part of the collection action from the credit agencies.
Of course, these debt collection companies will report the debtors to credit bureaus. While the lease itself will not be like a loan affecting your credit scores, defaulting will pose a major problem.
4. Issues of Money Judgment
In the case of a tenant defaulting their rent payment, landlords may also search for money judgements in court. If these landlords manage to get the money judgements, they will most likely report them to the relevant credit bureaus.
If you're a co-signer for an apartment in such cases, you will be one of the co-debtors in such money judgments.
When a landlord gets their coveted money judgment, they can also work on seeking wage garnishments. Alternatively, they can attach the judgements to the other property of the debtors (if any). Again, that also includes you as a co-debtor.Set featured image
5. What to Do Before Co-signing
First of all, we have to keep in mind that co-signing a lease is not the same thing as putting your name on a loan. The initial signing might not pose any risk, but this depends on the tenant's ability (present and future) to pay the required rent.
You may have to think very carefully before co-signing on even the smallest apartment. Consider the following steps before making such a commitment when you find an apartment:
Get Assurance of Notifications for Late Rent Payments
Before co-signing, make sure to get some assurances in writing from the landlord. One of these is that you will get an update about any late payments on rent. A notice like this will help you stay alert about any financial issues regarding the tenant and enable you to make plans accordingly.
Vet the Potential Tenant
No matter how close the person is to you, co-signing an apartment lease is a tall order. Before putting your name on anything, take assurance from the potential tenant that they will let you know if their payments get difficult.
You should also ensure that they are able to pay the first and last month's rent beforehand.
Understand Credit Scores
Your credit score is what helps you and other people gauge your management of money. You might need an excellent credit score later on in order to be eligible for important loans, grants, and other benefits.
With that said, if there is a payment default against you on that credit report, it will bring down that credit score. A payment default lasts for at least seven years, which is certainly a significant impact on your future plans. It doesn't matter if the default was not due to your actions or decisions, it will still be a default according to today's credit scoring models.
Less Attraction for Lenders
The primary tenant might pay the rent right on time, but your co-signer status could still put your interests at risk. Lenders won't find you such an attractive prospect anymore, especially in the case of a mortgage application.
The Takeaway
Whether someone is looking for Farmington Hills apartments with utilities included or something more basic, it is essential to understand the meaning of co-signing any lease.
Many financial experts will discourage co-signing on other people's credit cards, student loans, and automobile loans. However, an apartment lease is a bit different from all these.
While there won't be a direct impact on your credit, there might be indirect consequences. Make sure you know what you're getting into and heavily vet the other party before signing anything!