Pets have a way of bringing happiness into their owners' lives, with very little effort on their part. The truth is, nothing beats the feeling of coming home to loving companion animals.
No matter what happens, your pet will always be there for you! They lift your spirits, no matter if you're sick or depressed. Ideally, pets are also recognized to aid youngsters with their emotional and social skills, and reduce stress levels in adults.
It's estimated that 68% of U.S. households have a pet. This just supports the notion that pets play a larger role in many households and truly become family members.
Apartment Pet Policy
The things listed above are all reasons why, whenever you move, you bring dogs/cats with you. There is little to no issue when living on private land with your pets (dogs/cats). When you rent an apartment, however, difficulty may arise.
Apartments are known for having rules and regulations about how you live with your pets. It can affect everything, from the number of pets you have to how you treat them in your apartment complex.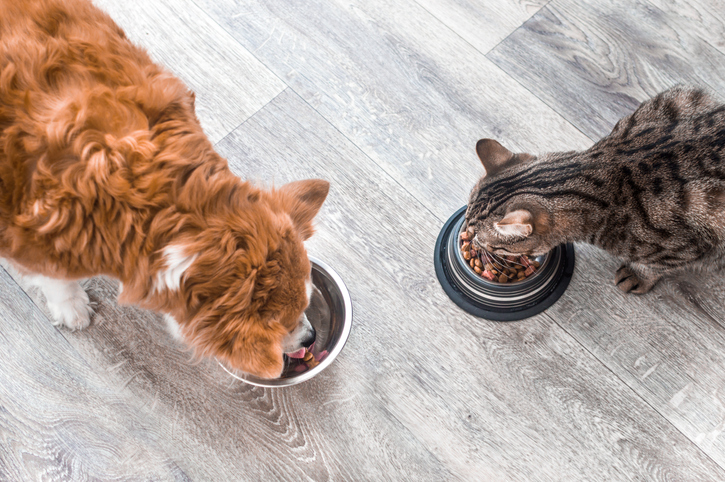 A landlord can decide whether or not to accept a dog into their rental property, with the exception of service or emotional support animals.
Thus, it is critical to read the pet policies and understand what is expected of you as tenants and pet owners.
The pet policy at Botsford Place Terrace Apartments is quite plain and easy to comprehend.
Now that you've decided to call Botsford Place Terrace Apartments home, here's a quick rundown of the policy:
How Much are the Pet Deposits/Fees?
Botsford Place Terrace Apartments, like other pet-friendly apartments, charges a non-refundable pet fee of $250 for pets under 30 pounds; but if your large dog exceeds 30 pounds, you'll be required to pay $500.
Moving entails numerous costs (security deposit, one months' rent, logistics costs, among others), and paying additional fees for your dogs or cats, i.e. a pet deposit, can be a significant financial burden.
That said, while a rental property may ask you to pay your pet deposit in advance, Botsford Place Terrace Apartments property offers you an additional option that is more accomodating. Instead of paying the non-refundable one-time pet fee upfront, Botsford property offers you a $50 monthly payment option.
As a result, splitting payments up makes them more manageable rather than paying all at once. This one-time fee is set aside for completing additional cleaning after leaving the premises.
How Much is the Monthly Pet Rent?
Many apartment communities charge pet rent, and Botsford Place Terrace's property does so at a reasonable monthly rate.
Some apartments may charge you as much as $30 or even $50 per month per pet, but thankfully, Botsford (pet-friendly) works in your best interests once again, charging only $25 per pet, per month.
As a result, you'll be able to save a few dollars that you may put towards anything else.
Are There Any Additional Pet Fees?
It's not uncommon for pet-friendly apartments to have additional charges for your pet. Fortunately, at Botsford Place Terrace, there are no additional fees you'll be required to pay for living with your pet.
For this reason, you shouldn't worry about unexpected fees for your pet. However, you may face a $50 penalty for failing to clean up after your pet on the apartment grounds.
What is the Pet Limit?
Like other pet–friendly apartments, Botsford Place Terrace has restrictions on the number of furry friends a tenant can have per unit.
For this reason, Botsford allows a maximum of two pets per unit. While it may sound a little harsh on you and your furry friend, Botsford Place Terrace works in the best interest of everyone.
Consider how crowded a neighborhood would be if everyone had the opportunity to have as many furry friends as they wanted.
Are There Any Breed Restrictions?
Expect to face pet breed limitations that are quite standard. Botsford Place Terrace is dedicated to becoming one of the most pet-friendly apartment communities, but the truth is that some pets, or rather breeds, are innately aggressive.
For this reason, Botsford Place Terrace accepts all dog breeds, except the following:
Mixed Breeds of Akita
Chow
Alaskan Malamute
Doberman Pinschers
Pit Bull Terriers
Rottweilers
Wolf Dog Hybrids
Saint Bernards
Botsford rental property also reserves the right to amend this breed limitation list at any time.
You'll be pleased to hear that cats, kittens, and puppies under the age of one are also permitted. Additionally, service dogs and seeing-eye dogs are exempted from breed restrictions.
Are There Any Pet Requirements?
Botsford Place Terrace has a few requirements that all tenants must follow. For instance, a dog must have a current MI license, and cats must be spayed or neutered, among other pet rules at Botsford Place Terrace's community.
Your furry friend is not permitted to roam freely on the premises under any circumstances. As a result, your pet must be on a leash whenever you leave the flat. In addition, you should never leave your pet tied and unsupervised.
You are responsible for cleaning up after your dog, and you should never take it off the premises to relieve itself. It's important to note that toileting is prohibited in private homes, parks, and non-public areas.
As a result, tenants responsible for breaching the rules as mentioned above will result in fines and possible termination of the tenancy.
What's the Approval Process Like in Botsford PlaceTerrace Apartments?
The procedure is quite common, so you should have no trouble getting through it. Management must authorize your pet before it is allowed to enter the premises.
For example, if your pet is not a restricted breed and has been spayed or neutered, as needed, as well as having all of their vaccines up to date, you should be good.
At that point, all that's left for you to provide is the one-time pet charge and the monthly pet rent, after you've met the management's standards.
Is Pet Insurance Mandatory?
At Botsford Place Terrace's community, it's not mandatory to have pet insurance. While pet insurance is not necessary, your renter's insurance should cover any concerns caused by your pet.
For example, if your pet bites a guest in your unit, the losses should be covered by your renter's insurance.
However, you should check to see if your insurance company provides pet insurance. If you purchase pet insurance coverage from your current insurer rather than a different one, you may be eligible for discounts.
Renters Pet Insurance Cost and Coverage
Pet insurance for renters can range between $12 and $25 per month. As a result, you can tailor your policy to cover certain items, while others are not.
With renter pet insurance, you may save a lot of money with a small monthly fee. For example, a $20 monthly coverage can cover up to $30,000 to $50,000 in damages.
As a result, you should seriously consider renters insurance, which will cover your pet in the event of any losses.
Service Animal/Seeing-Eye Dog
According to the Fair Housing Act (FHA), service animals are often subject to their own set of rules.
For this reason, service animals, in general, are not subject to monthly pet rent, fees, pet deposit, or restrictions. With that said, they must still abide by all pet policy rules and procedures.
Botsford Place Terrace Apartments' Pet Amenities
Botsford isn't known for being one of Farmington Hills' most pet-friendly apartments for nothing.
Botsford Place Terrace Apartments offers several pet amenities, like designated toileting areas for your dog, on-site open green spaces, an abundance of nature trails in the vicinity, as well as many nearby pet parks.
Ask for Help
If you want to get more information or have questions regarding the pet policies, you should contact the Botsford Place Terrace Apartments management office.
Botsford Place Terrace has a team of committed employees who are happy to answer any questions you may have.
Standard Provisions Included in a Pet Agreement
During your property or apartment search, pay attention to the pet policies before signing a lease agreement.
Expect to find the following pet clause or clauses in your agreement when planning to join an apartment community:
Pet deposit (if applicable)
Monthly pet fee (if applicable)
Renters insurance
Breed restrictions
Number of pets allowed
Vaccinations and shots required
Animal size
Cleaning and repair clause
Termination of pet agreement, along with tenancy occupation
Signature of tenant and landlord
While searching for a property you may want to check if the units feature private entrances. Pet-friendly neighborhoods often feature private entrances for your dogs. Ask the landlord as many questions as possible.
FAQs
Because pets rules can provoke many questions, we've compiled a list of some of the most frequently asked questions. If you can't find an answer to your question, consider asking your potential landlord the following:
Why Are There Pets Weight Restrictions?
Typically, building owners are concerned about the potential harm caused by a large dog entering and exiting through entryways.
The noise level from them, in terms of walking, and the risk of ruining the floor in public locations are all factors in the weight issue.
However, some of the loudest breeds are the tiniest; therefore, employing weight constraints to avoid using the term "aggressive breeds" can be a good approach to avoid using the term.
How do Apartments Verify Dog Breed?
Most apartments verify a dogs' breed after an interview. If that's the case, your dogs will be called in for an interview.
Rather than focusing on the dogs' breed, most landlords will engage with your dog to see whether it is hostile. Your chances of getting accepted will be slim if your pets appear to be hostile.
Can a Landlord Discriminate Against Certain Breeds?
State and local law prohibits landlord discrimination against tenants based on race, color, sex, national origin, handicap, or familial status.
With that said, a landlord has the authority to determine which pet breeds are permitted on their premises. As such, if your potential landlord rejects your dog breed, you may want to find an alternative before joining the community.
If you do have a pet that is commonly listed amongst the restricted breeds, you may want to consider renting from a private landlord; they are more likely to accept your request.
Tying it All Together
Pet rules offer guidance on how you will live with pets (dogs/cats) in the apartment and what your pets can and can't do within the apartment premises.
As a result, it's critical to understand your responsibilities as a pet owner to avoid issues with your landlord and the possibility of tenancy termination due to a violation of the pet policy.
Aside from the security deposit, one month's rent, and logistics charges, be sure to budget for your pet's expenses while moving into a new apartment. Having a plan in place will assist you to avoid going into debt while moving to a new apartment.