Apartment search can be an overwhelming task if you go the old school way. Technology makes it fast and efficient, saving you from the struggle of physically searching for apartments for rent.
Today, you can access millions of apartment listings using rental search engines. Ideally, you have plenty of options to pick your next apartment.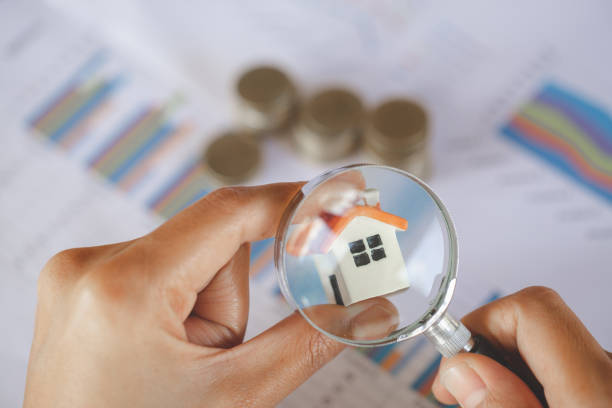 Even though searching for apartments for rent online is easy, renters want narrow procedures to get what they want fast and easy.
However, not all online tools can be trusted. For instance, visiting a reputable website will not only get you a nice apartment, but it will also care about your safety online.
Where to Find Apartments for Rent Online
Those printed property rental advertisements are still in existence, but do you want that to exist in your world? Certainly not!
You have an online option that can speed up the search process, but you must exercise caution.
According to a report by ApartmentList, 43.1 percent of American renters have encountered or been victims of a rental scam. You probably don't want to be part of these statistics, right?
The majority of seasoned renters relocate during the summer when their leases expire. The most obvious next step is to either renew their current lease or find another place to sign a new lease.
Luckily, we've put together a list of reputable websites where you can locate apartments for rent online:
●       Rent.com
●       Trulia
●       Apartments.com
●       Realtor.com
●       Craigslist
●       Renthop
●       RentCafe
●       Zillow
●       Zumper
Rent.com
What makes Rent.com a standout is its attention to detail on properties listed on the site. Besides, Rent.com has a rent calculator to help you figure out how much you can afford when looking for your next apartment.
Rent.com has several search options to help you find the property you're looking for. For example, you can choose based on the type of property, such as condos, houses, and apartments.
Here are some highlights of Rent.com for renters:
Plenty of features to filter your apartment search
It provides useful information, such as a house rental checklist
Renters can get free quotes from Rent's Moving Center
A blog that provides useful information about market trends
Ideally, most Rent.com rental listings are for properties managed by large corporations.
The best thing about Rent.com is that you can take a virtual tour, and if you are interested in a property, you can go ahead and visit it in person.
Trulia
Trulia has been a player in the real estate search engine market for nearly two decades. It's another site that offers a unique way of searching for houses for rent.
For example, unlike other city-focused websites, the Trulia listing page narrows its searches to neighborhoods.
Trulia's collaboration with CrimeReports.com, EveryBlock.com, and SpotCrime.com allows renters to get unique information about crime, amenities, and nearby schools.
Ideally, Trulia provides a plethora of features for renters to make their house search as simple as possible. Renters with a Trulia account can easily save and review their searches.
Trulia's variety of search options includes:
Location
Price
Amenities
Pets allowed
Income restricted housing
Furnished housing and many more
Furthermore, Trulia introduced a new feature in 2018 to help the LGBT+ community navigate any neighborhood with potentially discriminatory housing laws.
If you're a first-time renter, you should be aware of the 50:30:20 budgeting rule because it aids you in making the best decision when renting a house. The site also offers a rent calculator to assist you in selecting apartments that are within your budget.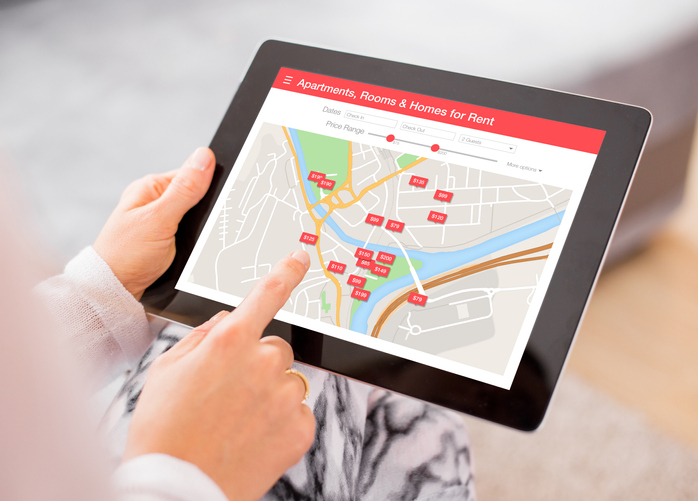 Apartments.com
Apartments.com is one of the best sites for rentals, as it boasts millions of listings that range from large cities to local settings. It has several impressive features on its name that make it simple for renters to search for rentals.
Renters can search based on the type of apartment they want such as student housing, income-restricted, and so on.
Apart from the listings, Apartments.com offers renters unique insights regarding the surrounding of any house. For example, you'll learn about a school nearby, transportation options, and much more.
The site's extra information is what distinguishes it as one of the best for apartment hunting. If you want more information on a house, there's a video tour option, and if you're new to a city, Apartments.com also has a neighborhood guide.
Check out the highlights of Apartments.com for renters:
You can use the "Plan Your Commute" feature to estimate the time it will take you to get from your apartment to your workplace
You can use the built-in drawing tool to define your geographic search's boundaries (interactive map)
Realtor.com
Realtor.com is one of the most reputable real estate sites for apartment rentals. This site offers you to personalize your searches, and if you want information about the neighborhood, it's right there.
If you're on a tight budget, you'll be relieved to know that Realtor.com provides price comparisons within a neighborhood. This makes it easier to cross-check locations with prices at the same time.
Furthermore, Realtor.com provides information on nearby shops, grocery stores, restaurants, and schools. Having said that, searching for an apartment on Realtor.com will be a breeze for you.
Craigslist
Craigslist is one of the best websites to search for houses for rent worldwide. Most houses are reasonably priced, and top property managers frequently post them directly on the site, making it easy to find a cheap house.
Furthermore, property managers are not charged for posting, so there are many options. You can search for rentals based on house size, fee, no fee, or price.
It's easy, just key in your lease terms, (long-term or short-term), set the rental budget, and perform the search.
Although free posting is appealing to many property managers, the downside is that Craigslist lacks stringent screening procedures, making it easy to fall victim to rental fraud. With that said, it's only natural to exercise caution when looking for an apartment.
On that note, you are likely to come across duplicate listings on Craigslist. Knowing this, search for listings with professional descriptions, such as explicit photos and addresses.
Craigslist's user interface is not particularly modern, so don't expect much user experience when interacting with the site.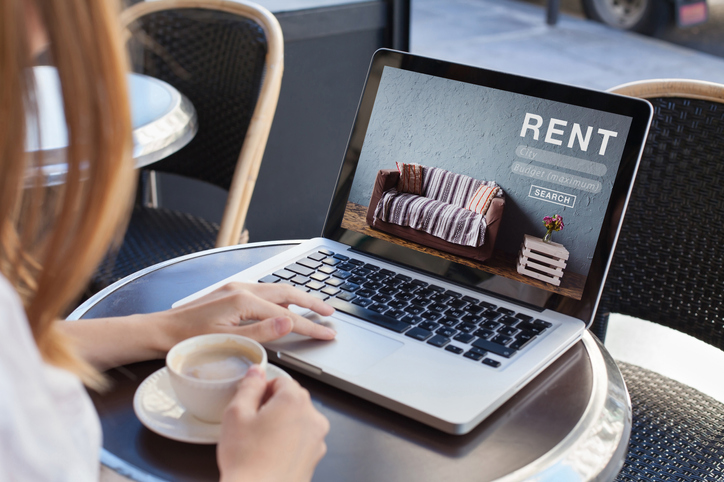 Rent Jungle
The most distinguishing feature of Rent Jungle is their price comparison tool for renters, which informs you as an apartment hunter whether you're getting a good deal or not.
Their feature-set provides you with everything you need to have a successful hunting trip. You can also search for military housing.
Renthop
Renthop is the place to go if you're looking for an apartment in one of the major cities in the United States.
Renthop introduced a scoring system (HopScore) to rate apartment listings based on quality, freshness, and manager reputation. This also serves as a barrier between legitimate apartment managers and rental scammers.
Renthop also has a price comparison tool to compare similar searches within a neighborhood.
How to Find an Apartment Online
A rental search online can be difficult, but once you narrow your search, you will be able to find exactly what you are looking for.
So how do you make your online search a little easier? Here is how to break down your search:
Know Your Budget
Prioritize Amenities
Choose a Location
Use Apartment Specialized-Renting Websites
Keyword Search for Houses in Your Area
Read House Reviews
Know Your Budget
Set a realistic budget before you consider what type of apartment you want. This is one of the most important factors to consider before beginning your search online.
In general, you should subtract your income from the cost of living, which includes food, travel, and shopping. What you have left will be used to calculate a reasonable rent.
Fortunately, you don't have to do all of that by hand; instead, you can use a rent calculator to figure it out quickly. Ideally, you should spend no more than 30% of your income on rent; anything above that will put you in a difficult situation in the future.
Consider the initial cost of renting an apartment; typically, you'll need at least a security deposit and one month's rent before moving in. Make sure to include that in your budget as well.
If you can't afford the rent on your own, it won't hurt to find a roommate to split the rent bill. It's cost-effective, especially if you have a tight budget.
Splitting the rent bill with a roommate is appealing, but it has some disadvantages. You must agree on ground rules for a healthy relationship with your potential roommate.
Prioritize Amenities
Amenities make life easier. Make a list of all the amenities you require in an apartment before conducting an online search.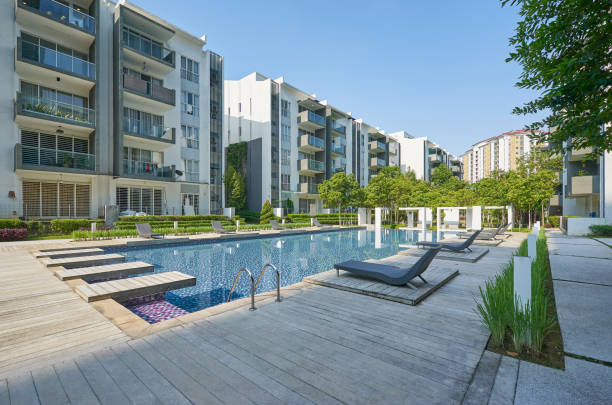 Do you require a washer and dryer? Or perhaps you want two or three bedrooms? Whatever you desire, make a note of it on paper.
Searching online will be easier when you know all of the amenities you desire since most listings include details about their amenities.
Choose a Location
When looking for an apartment, one of the most important factors is likely to be the location.
Before proceeding with your search, choose a location. For example, how far away from your workplace do you want to be? Furthermore, where you live will influence how much money you spend on commuting each month.
Check out the neighborhood on Google Maps to see how far away the shop, restaurant, or even your children's school is. Some of this information is most likely to be found on a real estate website; however, don't wait until then, stay ahead instead of playing catch up.
Are you aware of the crime rate in the area where you want to rent? It's natural for renters to prioritize safety before settling on a location.
For this reason, make sure to look into crime statistics for your desired location.
Use Apartment Specialized-Renting Websites
There are many real estate listings, so it's important to find sites that specialize in apartment rentals. Refine your search by using apartment rental websites, it will be quick and simple.
Some websites include listings for the local neighborhoods, which can be an advantage for you. As a result, you can easily enter your keyword filters and quickly search houses that you like.
Here are some websites you might want to look at for more information on neighborhood listings:
Realtor.com
Apartments.com
Keyword Search for Houses in Your Area
The keyword search is essential for finding your next apartment. Try searching for "apartments for rent nearby" and see what comes up. Filter out using your checklist and move on to the next stage of screening.
Most renters who search by local listings avoid the hassle of long-hour searches. It is much easier to find local listings than to search broadly; you will save money, time, and hasten your move-in process.
Read House Reviews
Reviews are one of the most effective ways to identify genuine listings.
Look at what renters are saying about a property manager or a specific listing. This will assist you in navigating the common rental scam as you try to search for an apartment.
If a listing has a large number of negative reviews from renters, it's pretty simple to avoid it and search for another one. Websites like Renthop have a scoring system, HopScore, that helps establish best-performing listings.
How to Identify a Rental Scam
If you're careful, it's not that difficult. Follow the steps below:
They don't want to meet you face to face – Often, rental scammers won't meet you in person; they prefer handling everything virtually. Doing online live tours is always an option if you can't make it to meet in person.
If you notice a pattern (red flag for renters) of avoiding a meet-up, stay away and move on to the next house.
The pressure to move–in right away without seeing the house – Another major red flag is the landlord's desire to fill vacancies as soon as possible, forcing you to make payments at all costs. Such patterns (fill vacancies quickly) frequently indicate that the person is a scammer, and if you persist, you will be on the losing end.
The cost is excessively low – In their right mind, no landlord will lease you an apartment for less than their bare minimum. If the lease deal appears too good to be true, it is most likely a scam. Most renters that fall into such traps end up losing big.
Most scammers use rental prices to lure their apartment hunters easily. They frequently set them excessively low and make them appear to be a discount. Renters without knowledge are likely to fall into such traps.
There is no screening procedure in place – The screening process is essential for apartment hunters, and it is uncommon for landlords to skip it. With that said, be wary if your prospective landlord appears unconcerned about the screening process.
Most renters will be screened to determine their ability to pay rent on time.
Asking for a security deposit before signing a lease – A landlord who requests a security deposit before signing a lease is more likely to be a scammer. The lease should ideally serve as a guide, and its absence should cause concern.
Final Thought
Apartment hunting is never easy, but with the above rental websites and tips, you should be able to find your next house quickly and hassle-free.
Many real estate websites provide detailed information on apartment rentals, such as the ability to take video tours and identify your next home.
You want a house with great customer service, right? Essentially, you want to be able to place maintenance requests and have them taken care of quickly.
Finally, online scamming is common; whether you're among the set of first-time renters or seasoned renters, please be cautious when looking for a home.