Even though moving into your first apartment is exciting and enables you to start a life of freedom and independence, it also presents a lot of responsibilities and challenges.
Whether you decide to close in on a purchase or sign a lease, you can furnish the home apartment according to your preference and let it reflect your style and personality.
However, it isn't easy to find the right apartment and organize it smoothly and safely.
To succeed in your move, you need to be aware of any pitfalls and challenges that you're likely to encounter. You need to understand what to do and what not to do while moving to your first apartment.
While you prepare to move into your new home, we're here to provide you with the ultimate first apartment checklist.
Tips for Moving into Your First Apartment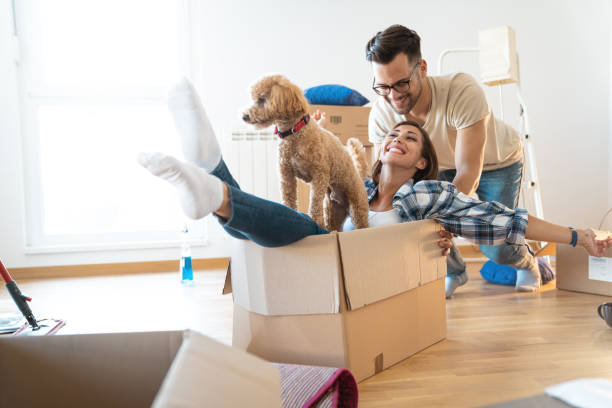 In the weeks leading to the moving day, follow the apartment tips below if you want your rental application and moving into your first apartment to be successful:
Add a New Paint Coat
You can start by personalizing your apartment by incorporating a fresh paint coat on the walls. If you decide to rent, however, ensure you ask permission to do so from your property manager.
Another approach you can employ to infuse fun and personality into your rental apartment is applying removable and peelable wallpaper. Since the wallpapers can be removed on the move date, most landlords approve of them.
Figure Out the Mail Situation
Does the apartment you're moving into have a community mailbox center where tenants get their mail? Or does every individual apartment building have its mail slots on the door?
Will the doorman store your packages when you are away? Or will you have to make arrangements with your neighbors to pick mail up for you?
You'll also be forced to check whether packages and mail are left outside the building or apartment. If they are, you can consider setting up your P.O. Box. Such mailboxes are located in a post office and are secure and safe.
Many other post offices will also extend 24–hour and business house access to your mail.
Set Up Facilities
If you decide to buy your first apartment, you must call all the utility service providers weeks before the move to schedule installation times and dates for after you move in.
Some of the utilities you can consider include water and sewer, cable and internet, satellite, trash, security system, gas, and phone.
Even though some utilities, such as cable and internet, can wait for a few weeks after you move, others, such as electricity, gas, and water, will have to be set up before or on the move-in date.
If there are any damaged facilities, ensure you make maintenance requests.
Spruce Up the Entryway
Do you intend to create a good first impression with guests and friends?
If yes, then you should spruce up the entryway with wall baskets, hall hooks, shoe racks, umbrella stands, and organizational shelving.
Entryway accessories offer you somewhere to place your belongings while at the same time making the apartment neat.
Buy Cleaning Supplies
Before you move your furniture into the apartment, you should give it a good clean.
You should mop and vacuum all dust surfaces and floors, and clean the bathrooms thoroughly.
While purchasing supplies, don't forget to buy vacuum bags, soap, disinfectant spray, and wipes.
Acquire an Extra Set of Keys
Never forget to acquire an extra set of keys to your apartment. Otherwise, you might find yourself locked out of the unit.
We recommend that you keep a set of spare keys with a trusted family member or friend in case of emergencies.
Buy New Furniture in Your Apartment
Before you move into your first apartment, take the room's measurements. This is the only way of figuring out whether or not your current furniture fits in.
Many people who move to a first apartment often buy just the basic necessities, which includes a few pieces of furniture. If you're on a budget, you can invest in a comfortable bed and couch. The rest of the furniture can be found at local donation shops or consignment stores.
If you purchase furniture in your first apartment, you'll feel more at home.
Have Extra Towels and Sheets on Hand
To avoid washing the same towels and sheets over and over again, you need to have an extra set or two on hand. This will also be helpful if you have house guests in your apartment.
Meet Your Neighbors and Interact with Them
If you decide to rent or buy an apartment, you will live closer to other tenants. To make your experience pleasant and worthwhile, you need to introduce yourself to your neighbors after moving in.
Not only will this make your neighbors appreciate your gesture, but it will also give you a sense of community.
Replace Smoke Detector Batteries
After moving into your apartment, replace the smoke detector batteries. Apart from being a smart thing, the move will also prevent the smoke detectors from chirping.
Replacing smoke detectors is, therefore, a smart move you can take.
Acquire a Toolbox from a Reputable Shop
If you don't have a toolbox yet, you can purchase one to bring to the apartment. A smaller, portable toolbox is better than nothing at all.
A toolbox should come with hammers, wrenches, and screwdrivers, which are typically required to put together furniture, hang wall decor, and fix mishaps in your apartment.
For more difficult fixes, we recommend that you contact a qualified handyman. However, with a handy toolbox, you can handle most basic modifications.
Buy a Plunger
Just in case your toilets start to overflow or act up, you need to have a plunger on hand. Fortunately, buying a plunger is affordable, and you can easily get it at your local store.
The cost of plungers varies between $5 to $20. Ensure you go for a quality product if you want effective performance.
Get a New Address
When you decide to move to your first apartment, ensure that your bank is aware as soon as possible. Ensure you update your credit card information with the new billing address.
It would also help to let family and friends know that you moved. This will save the time for visiting the wrong apartment in case they want to see you.
Figure Out Your Trash Pickup Days
Recycling and trash pickup days are different depending on the location. You should, therefore, ask your neighbors for specific details.
It would even be better if you called your city's Sanitation Department to get more information.
Explore Your Preferred Neighborhood
After moving into your first apartment, you need to get out and explore the new neighborhood. Drive, bike, or walk around the apartment to get a good sense of where you are and what's around you.
You need to locate nearby parks, schools, libraries, museums, grocery stores, hospitals, hardware stores, pharmacies, and other amenities. You can even ask around for more information about the location from people who already know the area, such as your neighbors.
Do Select the Right Location
Before shopping for a suitable apartment to rent, you should make a decision on where to live. It might include moving from your current apartment to a new city.
Below are things to consider for a perfect location:
Proximity to the workplace
Transportation options
Amenities, such as a grocery store, school, and hospital
Crime rates and safety
Landscape features
Pay Attention to the Lease Agreement
It would help to pay attention to the lease agreement so that you don't face problems in the future. Things such as how much rent you need to pay and whether you need renter's insurance should be made clear by the property manager.
Most apartment buildings have in place a lease to protect themselves from bad tenants. As a tenant, go through the lease, even before the rental application.
Remember, the month's rent is different from the security deposit. While you'll pay rent each month, the security deposit is paid only once.
Remember that a late rent payment might attract penalties.
Hire Movers with Experience in Moving Services
Moving into your first apartment is a critical step that needs to be done right. The moving process will be successful if you employ the services of a professional moving company.
Select a mover that offers friendly moving costs. During the moving day, the movers should avail a top-quality moving truck. You also need to ensure that the mover is licensed for operation.
Even before the movers arrive, you should start packing your belongings.
Understand How to Pack a Box
Packing a box needs to be on your first apartment moving checklist. You need lists of everything as you pack boxes, and remember to label every box with as much detail as you can.
Avoid packing towels in the linen closet box, but instead tuck them into a separate empty box. Also, avoid packing boxes if there is no need to.
Keep some blankets to wrap breakable items, such as televisions. You can wrap the blankets around and secure them with packing tape. To contain small items, you can use sandwich bags.
The Items You Need for Your First Apartment
If you've been crashing at your parents home or sharing an apartment with your friend or roommate, there is a high chance that you don't have enough furniture or home essentials for your new apartment.
From a shower curtain liner to a proper mattress, there are several items that you need to buy for your first apartment moving checklist.
Below is a list of all the essentials you need for your first apartment:
The Apartment Entryway
The entryway is the first and last thing that people see when they enter your new apartment. Whether it's a grand foyer or a small hallway, you should keep it tidy and neat to guarantee a good first impression.
Below are some first apartment checklist items you can consider for your entrance:
Lamp
Round foyer table
Wall hooks for hanging your dog leashes, jackets, and coats
Umbrella holder or stand
Rack, basket, or other designed places for your shoe storage
Console table and mirror
Living Area & Den
The living space is the most utilized and one of the most important places in your new apartment. Since you're going to spend most of the time in the living area, you need to ensure that the space is practical and comfortable for your lifestyle.
If you have plans to have or entertain guests, you'll have to ensure plenty of good lighting and seating.
Below are first apartment checklist recommendations for the living spaces:
Candles
Sectional or couch
Ottoman or coffee table
Area rug
Pillows
Extra lounge seating, such as stools, futons, and chairs
TV and stand
Lighting, including standing lamps and regular lamps
Picture frames
Mirrors, art, and decor
Blinds or drapery
Blankets
Hanging tools and hooks
Side tables
Bookshelf
Kitchen Area
Just like the living area, your kitchen is also an important part of the new apartment. If you have plans for cooking, it is critical to have enough tools and kitchenware.
If you plan to eat dinner ro entertain your family, you'll need extra chairs and tables. It would help to evaluate your kitchen needs before wasting your resources on excess utensils, plates, window treatments, and kitchen equipment.
Below are the key kitchen tools that you may need in your first apartment:
Colander
Microwave
Dishes and different plate sizes
Pans and ports
Baking sheets and cooking sheets
Utensil tray and utensils
Pyrex or Tupperware
Oven mitts
Glassware and cups
Cutlery set, including steak knives, paring knife, butcher's knife and bread slicing knife
Grater
Lemon squeezer
Mixing bowls
Mixer
Measuring spoons and measuring cups
Soup bowls and cereal bowls
Peeler for fruits and vegetables
Keurig machine or coffee maker
Food processor or blender
Dishwashing soap
Dishtowels
Handsoap
Toaster oven or toaster
Shelf liners
Tea kettle
Pepper and salt shakers
Pitcher
Cling wrap or plastic wrap
Aluminum foil
Trash bags and trash can
Magnets
Canisters
Pantry supplies
Placemats
Space rack
Your Bedroom
The master bedroom is your private little sanctuary. It would, therefore, help to stock it with critical accessories. For instance, you need to measure your room before you purchase expensive bed frames or accessories.
It would also help to keep your closet in mind. Depending on the closet's size, you need to buy tools to maximize its storage abilities.
Below are things we recommend for your bedroom:
Mattress pad and the mattress
Bed frame
Bedsheets
Comforter
Pillows
Blankets
Duvet and duvet cover
Bedside lamps
Bedside dressers/nightstands
Rug
Dresser with drawers to hold your clothes
Art
Full-length mirror
Trunk
Closet shelving
Shoe storage
Chair
Laundry hamper
Blinds or drapery
Chair
Wastebasket
Clothing hangers
Closet organizers
TV
The Bathroom
Your bathroom is also an important element of your home. Even though it's a small part of the apartment, you should take good care of it.
Apart from stocking the cabinets with cleaning supplies and toilet paper, you should also have enough towels for everyone, including guests.
Below are bathroom essentials we recommend that you have in your apartment:
Wastebasket
Bath towels
Shower line and shower curtain
Hand towels
Washcloths
Bath mat
Toothbrush holder
Handsoap
Sponge
Hamper
Vanity trays
Toiletries
Shower mirror
Seagrass basket for holding your towels
Plunger
Shower stool or seat
Canister for holding any miscellaneous things
Toilet paper
Cleaning supplies
Cabinet storage shelving
Bath caddy
Cosmetic organization bags and trays
Home Office
To boost your work product, you should have your home office tidy and clean.
Even if the apartment is a mess, your office should maintain a pleasant and professional feel. This includes everything from cozy seating to desk accessories.
Below are things we recommend for your home office:
Printer and scanner
Desk chair and desk
Books
Writing tools
Accessories and laptop
Rug
Lamp
Art
Wastebasket
Critical Miscellaneous Items
There are other miscellaneous items that you might require while moving to your first apartment. If you don't know the exact things that you need, we'll highlight some of them for you. You can easily find these items at large chain retailers, including Home Depot and Target.
Vacuum
Carbon monoxide detector
Bins and baskets for storage
Additional hooks
Iron
Air filters
Stools for pantries and closets
Flashlights
First aid kit
Surge protectors
Clocks
Tool kit
Batteries for your smoke detectors
Light bulbs
Cleaning supplies
Sewing kit
Dustpan and broom
Folder for documents
Mop
Charger for electronics
Laundry baskets
Extension cords
Bins for storage
Ironing board and iron box
The Final Verdict
Armed with the above tips for moving into your first rental apartment, you can take on your relocation venture without fear. Apart from the above tips, ensure that you avoid selecting an apartment that doesn't meet your needs.
It will ultimately help if you don't shy away from asking for assistance, especially in areas you find troubling. You should also avoid splurging after your move has materialized, and be sure to take out a renter's insurance policy to protect your apartment.
We wish you a successful relocation from your parents house, or wherever you may be, into your own place.