As a pet owner, there are more considerations that you need to put into perspective while buying or renting an apartment. You need to understand how to pet-proof your apartment if you want your pet to live an easier life.
Some of the actions you need to take include shopping for a new sofa or locating a pet-friendly apartment. It might even mean buying the right products for pet-proofing the apartment.
Here, we consider some helpful tips you need to follow to keep your apartment clean and your pets happy.
How to Pet-Proof an Apartment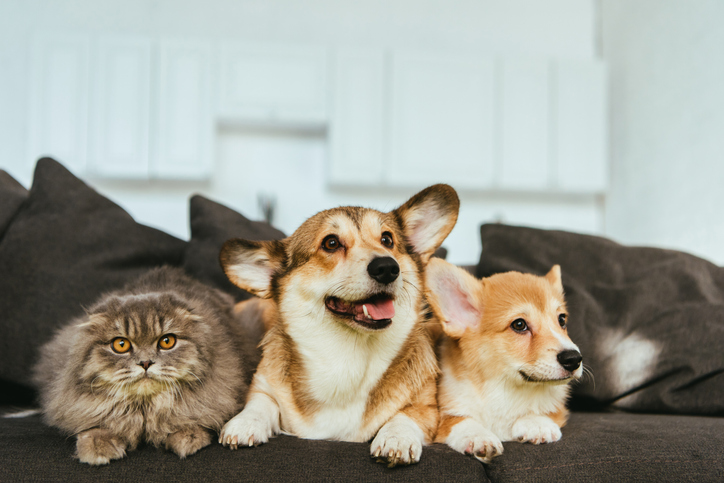 The pet-proofing techniques vary depending on the type of pet you have. Below are some approaches pet parents can apply to different types of pets:
Puppies & Kittens
Since puppies love to explore, you need to keep your apartment intact by keeping them in an enclosed area. While you're not keeping watch on them, keep them in a kennel or one room of your apartment.
For kittens, ensure that you have a kitty litter and scratch pads close by. Remove anything around the space that you don't want to get destroyed by the kitten's paws.
Since kittens can climb, you need to understand that a baby gate won't keep them out of the spaces you don't want them in. We, therefore, recommend that you settle for a large kennel or closed-off room for the kittens to settle in at night.
You must understand that kittens are tiny and can easily get into small enclosed spaces. However, puppies are fast, and it might be difficult to go after them.
When they're still young, ensure they have ample chew toys to play with. Otherwise, they might end up chewing your shoes.
When the puppies are playing, keep human toys and trinkets off the floor. Avoid using a baby gate when you decide to puppy-proof puppies.
Cats
If cats are properly trained, they become easier to care about. The most important concern surrounding puppy-proofing and cats is making sure they don't scratch your furniture.
You need to have toys and scratch pads spread throughout your apartment to enable them to release pent-up energy.
Clean the cat's kitty litter at least twice a day to keep them fresh. Otherwise, you risk your cats using the apartment as their kitty litter. We all know that cats are clean pets, and when their kitty litter isn't clean, they'll go somewhere else.
If the cat sheds a lot, you need to cover the spaces they usually lounge on using a blanket or sheet that you can easily throw in the wash.
Dogs
Like cats, the most proven approach to dog-proof your dog is to train them properly. A dog should have ample playtime, space to run around, and walks to prevent them from using pent-up energy and take it out in your apartment.
Always have in place a comfortable dog bed and chew toys for the dog to get engaged on. If the dog is home alone, especially during the day, ensure you assign someone to take it out for a walk. You also need to have pee pads for smaller dogs.
Pet-Proofing Tips
Even though it's fun to have pets in your apartments, they're also a large commitment. There are several things you need to do to make your pets feel at home. Puppy-proofing is one key approach to making pets happy and safe.
Below, we have compiled a list of tips you need to consider to ensure that your apartment is ready to host pets:
Costs
Even before you get a pet, you need to understand the costs of making your home pet-friendly. You'll also need to understand the costs of owning the pet, and what is the pet policy of your apartment complex.
For instance, your pet-friendly apartment might charge a flat fee or pet rent per month for anyone who has a pet. The costs vary a lot, but can be somewhere around $50 per month.
Once you decide to have a pet in your apartment, you'll have to spend money to make the apartment pet–friendly. This might involve investing in baby gates, pee pads, toys, pet cleaning supplies, a crate, among other things that'll make your apartment conducive for your furry friend.
Watch Chemicals
Just like toddlers and children, pets are naturally curious. They constantly like to try and search for new things.
Therefore, it would help to keep all harmful chemicals locked away in a safe place to prevent your dog or cat from getting into it. This includes things like bleach, dishwasher liquid, floor cleaner, and more. Pets might die if they consume such things.
By keeping such products off the ground and table or behind a cupboard, you could save the pet's life.
Keep Cords Away
Most apartments are full of cables and cords lying idly on the ground. There are also many electronic devices in your home that are plugged into a wall using a cord. Even though the cords are necessary, they can be hazardous for pets.
Pets could chew through the cords, which might cause them damage and wreck the electronics as well. You should keep the cords out of reach or hidden from your pets.
Keep Toys
Cats, dogs, and other pets enjoy playing. It's, therefore, a good idea to invest in a large number of toys in your apartment for the pets to remain active.
If there are no toys for your dog or cat, they're likely to remain mischievous while they search for things to play with. In most cases, they might chew up your couche, shoes, and other things that you hold dear. If it's the first dog you're keeping, you can ask around for the best toys.
Cleaning Supplies
Whether your pet is used to living in your apartment or is new to your living space, accidents sometimes happen. When such a situation presents itself, you need to be well prepared to handle them straight away.
For instance, if your dog vomits somewhere or goes to the bathroom, that isn't something that you want to ignore. Brushes, mops, cleaners, and more are all essential things you need to have when your pet gets into an accident.
If it's your first dog and you don't know anything about cleaning supplies, ask someone with experience. Your home needs to be pet-proofed effectively for the best outcomes.
Never Keep Food Out
The food we eat is more appetizing than that for our pets. This forces our pets to get hold of our food as much as possible.
Whether it's taking it right off your plate, jumping to the counter, or climbing on the table, the pet will try to reach your food.
If your dog is left unattended with food left in your apartment, where they can access it, they'll eat it. This is bad since it can harm your pet and kill it, let alone make a mess.
If your dog consumes too much human food quickly, there is a high chance that it'll get sick and puke all over your apartment.
Trash Cans
For some reason, pets love rummaging through a litter box. Even if you were to offer them a bowl full of food, they'd still find their way to the trash bags or any other plastic bags.
To prevent such a scenario from happening, you must change the garbage cans you have. For instance, if your trash can is flimsy or small enough that your dog can knock it over or get inside, you need to invest in one that restricts pets from access.
Control Clutter
A lot of apartments have clutter. With that said, there should be no clutter in your home if you have plans of having pets.
If many things are lying around, there is a high chance that your pet will destroy or just simply get into them. Clothes, boxes, kids toys, and more can be targets for pets to wreck and play with.
Pets will also knock things over in your house and spread clutter around, thus taking you longer to clean up. It's, therefore, important to come up with house rules to control clutter.
Pet-Proofing Products
Below are some products you'll need to pet-proof/puppy-proof your apartment.
Rugs
We recommend that you stick with low-pile rugs since they'll hold up well with time and are easy to clean. However, there are washable rugs that you can throw in your washing machine and are ideal if you want to make things easier.
Broom
Depending on the pet you have, you may experience hair all over your apartment. We, therefore, recommend that you acquire a rubber cleaning broom to keep your floor clean.
These handy brooms work on all types of surfaces, including hardwood, tile, and carpets. It has a built-in squeegee edge used for wiping away liquids. It's, therefore, among the most versatile products you'll ever have.
Urine Destroyer
If you have a pet, there is a high chance that it's going to urinate in your apartment. You'll, therefore, have to look for reliable cleaning supplies.
In such a case, we recommend that you go for the Nature's Miracle dog urine destroyer. You can buy a cat version of this product as well. You can also check out the Stain & Odor remover spray.
Mattress Protector
If you let your pet sleep with you, you need to invest in a mattress protector. To pet-proof your apartment successfully, we recommend that you go for the Safest waterproof mattress protector.
Apart from the mattress being waterproof, it'll also protect against allergens, bacteria, and dust mites to make the mattress durable.
Vacuum
A good vacuum is suitable for an apartment that has pets. To be pet-proof effectively, you need to target a perfect model for pet owners that is designed to offer a powerful suction.
The vacuum should also come with extra tools for vacuuming furniture and tile or vinyl flooring. Some of these products are designed with filtration systems to clean the air.
Do you research and find a quality vacuum that is within your budget.
Scratch Guards
Some pets, such as cats, are adorable, but will damage your furniture if you aren't careful. You should, therefore, have enough scratching posts around your apartment to discourage them from destroying the sofa.
As an extra precaution, you can grab a few furniture scratch guards. Even though they aren't the best solutions, they can make a difference, especially when you're struggling.
Dryer Balls
Dryer balls offer an eco-friendly option to dryer sheets. Here, we recommend that you go for the Friends Pet Hair Remover Dryer Balls since they are specifically designed for removing dog or cat hair.
The dryer balls are made from nylon and plastic.
Cord Protectors
If you have pets that love to chew into anything in your apartment, you should consider going for cord protectors. They wrap around cords of up to 10–feet long and function as a barrier between your cable and the pet.
Cord protectors are simple, but yet effective.
Storage Cabinet
To be pet-proof successfully, go for a shoe storage cabinet. These multifunctional cabinets come in many stylish options and are extremely functional.
If you have a cat or dog that is used to eating your shoes, an open shoe rack would be the best solution for you. However, shoe storage cabinets hide your shoes, but still look good in the entryway. It offers a win-win solution.
Your apartment needs to be pet-proofed effectively for the best outcomes.