Finding an apartment can be challenging, especially if you are a dog owner. Some landlords have breed restrictions for dogs, and others don't allow pets of any kind.
With that said, the good news is that there are a lot of pet-friendly rentals out there, so you can certainly find a place to live with your best buddy. You just need to know where to look!
If the apartment community does not allow dogs, it is easy for you to just move on to the next. If the community does allow them, you will want to find out the size and pet restrictions, along with what the pet monthly rent and other additional fees are, from the apartment pet policy.
Making a plan to find a pet-friendly apartment will make the search process easier.
How to Find Apartments that Allow Dogs
Pet ownership rates have been on the rise because pets are known to be a tool to help improve people's moods, and even their health. Since owning a pet is more popular than ever before, many tenants are looking for pet-friendly units.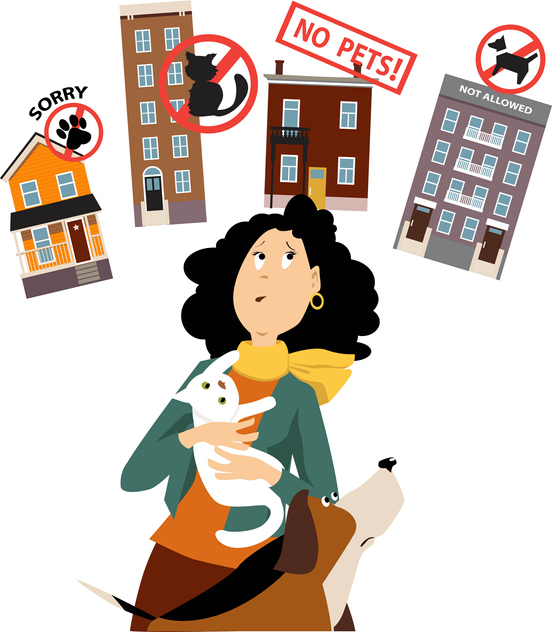 Where Do You Find Pet-Friendly Apartments?
For starters, there are many options out there for pet-friendly apartments for rent. You can search on the internet to find out which ones are close to your job, or you can visit the local pet store and ask people there.
In addition, you want to make sure the building is clean, pet-friendly, and that the location is safe.
If you're having problems finding a perfect pet-friendly apartment, we are here to assist.
What Defines a Pet-Friendly Apartment?
For a rental to be considered a pet-friendly house, it must meet a degree of pet-friendliness.
For example, the apartment must have an environment where pets can roam free without being confined to one place. In addition, the apartments must be clean and well-managed with an owner who is willing to accept responsibility and act as a good landlord.
Generally, a pet-friendly rental will:
● Have a pet agreement
● Allow certain breeds of animals
● Allow a certain amount of pets at one time
● Require proof of vaccinations
● Allow the landlord to enter the home when the tenant is not present if they suspect an animal is in distress
All-in-all, there are many nuances to determining a pet-friendly environment.
Use Online Tools to Narrow Down Your Apartment Search
The internet has given rise to many search tools for just about anything, and real estate is no exception.
From rental search sites, like Zillow and Trulia, to apartment niche-specific sites, like Apartments.com and ApartmentRatings.com, there are many options where to find apartments for rent online.
Utilize an apartment search site to aid you in finding an apartment that feels like home and is within your budget – even with your furry family member.
These apartment search sites have taken the time to cater to a niche population by including information on proximity to dog parks, apartments that include pet-washing stations, and more. This makes it easier than ever to find your new pet-friendly home.
Lean More Towards Private Landlords or Family-Owned Apartments
The majority of landlords or large corporations will have a list of dog breeds that are permitted on the premises. Tenants who want to bring a dog should ensure they don't have any of the restricted breeds, as there are typically no exceptions due to insurance purposes.
On the other hand, private landlords have the authority to refuse any renter, even those with dogs, but they are more forgiving or lenient with particular breeds. With that said, A landlord may use a dog as a bargaining chip when seeking higher rents in rare circumstances.
With that said, the good news is that many private landlords allow for dogs since they recognize that it increases the desirability of their property to potential tenants.
Consider Pet Deposits and Pet Fees
Whether or not to allow pets in a rental home is a major issue. They can be wonderful friends who bring joy to anyone's life, but they can also be destructive and costly. As a result, most landlords may require a pet deposit upfront, along with a monthly pet fee for the duration of the lease.
This is because some landlords have had terrible experiences in the past with pet owners and want assurance that a prospective pet owner would clean up after their dog.
Typically, these pet fees and pet deposits are non-refundable. If you have a pet that the landlord is on the fence about, proposing to pay a larger pet deposit upfront may help you persuade them to approve your application.
Choose the Right Location
You may want to consider a few other factors before signing the lease for a pet-friendly apartment, such as:
Will you have to take your dog outside in the snow?
Is it a doggie-park type neighborhood where your pup can enjoy all-day walks?
How far is it from your workplace?
Proximity to work can mean more time spent with your pup in the evenings and weekends.
With that said, consider researching to establish such details before rushing to sign the lease agreement.
Prepare Your Pet Resume
Applying for an apartment can be a stressful undertaking. There are so many properties to choose from, and the sheer number of applicants can make it hard to get noticed.
You might apply for 15 apartments and only get one response back (see how long does an apartment application take to be approved). It's a lot like applying for a job, except you don't have any idea what the company is looking for or what qualifications they require.
As a result, you'll need to prepare your pet resume and provide recommendations from previous landlords to persuade your potential new landlord.
In general, you must prepare documentation that specifies your dog's age, breed, and any medical information that may improve your chances of being accepted.
Will You Pay More for a Pet-Friendly Apartment?
Yes! You will most likely pay more. Several reasons play a role in why landlords charge extra to rent with a pet, including the higher potential for damage and the excessive wear and tear they create on the property.
Most properties require pet owners to pay a one-time pet deposit upfront, as well as monthly pet rent. The average pet deposit is usually between $100 and $500. Also, expect to pay anywhere from $20 to $50 each month for your pet rent.
Factors to Consider When Looking for Pet-Friendly Apartments
With a growing number of pet-friendly apartments on the market, you may be tempted to get a new place to accommodate your furry friend. Before you do, here are some of the factors you should consider:
Consider the Size of Your Apartment
When you live with a furry friend, you need to make sure that your home and space is big enough for them to move around and explore. They need plenty of time outside, exercise, and room to roam in.
A person who lives in a large apartment with a huge living space and a backyard will be able to have their dog adjust to apartment living quicker, all while still living peacefully in their own place.
If at all possible, try to live in a ground floor apartment. Although most apartments demand a premium fee for units on the bottom floor, it is well worth it, especially when it comes time to let your dog relieve itself.
Take Notice if There is a Doggie Daycare Nearby
If you work during the day and are frequently away from home, leaving your pets alone in the apartment could be disastrous. In fact, many flats will not allow you to leave your furry buddy alone.
As a result, during your apartment search, look for one that includes a doggie daycare within walking distance. This way, you will not violate your apartment lease policy and risk unnecessary penalties.
Pick Apartment Complexes with Dog Amenities
A dog is a member of the family. They need a home that caters to all of their needs, just like any other family member. This means you should ensure that your apartment community has amenities for pets.
You might want to ask about features like dog-walking trails, a doggy daycare, and a dog spa (pet-friendly apartments often have these features).
Frequently Asked Questions
How do apartments verify dog breeds?
Often, dogs are called in for dog interviews. These interviews can help apartment pet-friendly communities judge the animals' behavior and temperament.
Some properties are stricter than others, so if you're going to be renting with a dog, it might be worth doing a little research into your prospective complex's pet policy before you sign on that dotted line.
What happens if you get a dog without the landlord's permission?
If you don't get approval from the landlord first, they can charge you their standard pet deposit and even fine you for breaking their rules.
Even if your lease does not explicitly state that you are not allowed to have a dog on the property unless approved by management, the law for property managers may still be on their side.
The good news is that more and more landlords are implementing dog policies that allow for animals, but only if the tenant gets approval beforehand.
How can I get my landlord to say yes to my dog?
You can do the following:
Offer to pay a larger deposit upfront
Prepare a dog resume
Provide references to your previous landlord
Obey the laws of your lease
How do I make my apartment dog-friendly?
Want to know how to pet-proof an apartment? Be sure to walk around the apartment before bringing home a dog and look for low-lying cords, wires, or anything that could be chewed on. Outlets should also be covered with plastic outlet protectors or electrical tape.
Another way is by creating a space in your home to designate as the "dog's place." This space can be inside or outside, but should have a bed, water, food, and toys. You can also find items that repel fleas and ticks at dog stores or online (such as essential oils).
Final Thought
If you are looking for pet-friendly apartments, you should do a few things first. For instance, search for the listings that are specific to your needs.
If the landlord is not specific about what breeds or size of dog they allow, then contact them directly and ask their requirements; you should always know what to ask when apartment hunting. Most landlords would let small or medium-sized dogs live in their apartments as long as they are well-trained and don't create any problems.
Lastly, keeping your apartment dog-friendly is a daunting task. It can be hard to find the right balance between giving pets enough room to roam and not turning your home into a complete mess. If you're tired of living in a house and want to take the plunge into apartment living, it's important to assess how pet-friendly your new place will be.