Finding a new apartment can be a challenging task, but it is a rite of passage that most people go through. It can take some time to locate your dream apartment; the rental market is a tough one these days. Potential renters may just have to be content with anything decent they can find.
Whether you are planning to move to one of those college towns or wherever the job market takes you, it will take some time to find that perfect apartment.
What is Your Lead Time?
How long does an apartment application take to be approved? The answer can depend a lot on the searching lead time; this is basically how far in advance you should look for an apartment. It is not always possible to sign up for a date to move-in that is right after you vacate your current place.
Your lead time will also depend on where you are looking and what your desired move-in date is. While metro cities, like San Francisco and New York, might give you a lot of choice and several available apartments at any time of the year, you usually can't sign up for them more than two months before your desired move-in date.
When it comes to college towns or small suburbs, you might be able to sign your first apartment well before the move-in day. If you have already decided on your destination, start researching its lead time well in advance.
It is important to ensure that you know the lead time within the neighborhood you aim to move to because each area might be different. This will give you an idea of the best time to start the apartment application process and plan the move-in date accordingly.
Funding the Apartment Search
Along with knowing how much rent to budget for, be prepared to stretch your monthly income/savings to fund commutes, tours in apartment complexes, and the first plus last month's rent before the move-in date. The security deposit is also a must, but you can hope to get that back when moving out in the future. There may also be an application fee for most apartments. Make sure you know what to ask when apartment hunting, like are there any added fees, so that there are no unpleasant surprises.
At this point, you may also want to consider the best financial decision for the near future. Some people may wonder 'should I get a car or apartment first.' So, weigh the pros and cons of each before moving forward.
How Long Does it Take to Find an Apartment?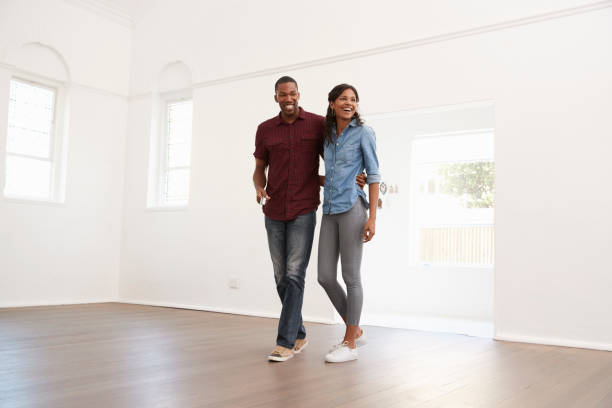 So, how long does the apartment hunting process actually take? Knowing how to shop your first apartment is very important; do not make the mistake of thinking that the process will only take a few days. An apartment search can be exciting but also stressful and costly.
Finding an Apartment in a Timely Manner: Estimating How Long it Takes
It is not just enough to look at online listings or conduct a Google search on how to find a one bedroom apartment.  Make sure to leave a lot of time to complete the application and check out all the available apartments in your relevant area. Your next move-in day might be a few weeks from now, but here is what to keep in mind before you decide a move-in day:
1. Initial Browsing – start 2-3 months before desired move-in
You should give yourself at least two to three months for browsing apartments before the intended move-in. If you want to find an apartment near your current location or are relocating somewhere familiar, you already have some idea of the right place. If the plan is to find an apartment in a new city, now is the time to do your homework.
Search for information regarding various neighborhoods. Try some in-person visits to check out the facilities and make sure to ask some questions from current or previous residents.
The apartment itself should also meet your needs. Make sure to check how many bedrooms the unit has, what facilities it offers, and whatever else is important to your needs and wants.
You may fall in love with the first apartment you tour, but don't get too tempted at this stage. Before the final move-in, consider the rent you are paying, how close it is to your workplace, and how your work commute will be from there. If you do not prefer moving to a noisy neighborhood, you may want to check out how to soundproof an apartment door.
2. Touring – 1-2 months before desired move-in
After your research, shortlist the most likely neighborhoods according to your choice and requirements (nearby schools for the kids, your own work commute, nearby shops, etc.). Additionally, ensure that you can actually afford the rentals available in these areas. A rent calculator might be able to help in this regard.
Once you have around 5-10 options that could be the perfect apartment, get in touch with each potential landlord so you can get an appointment for a viewing. Keep in mind that the leasing office/leasing company may only be open during specific work hours. In that case, you may have to take some time off to pay an in-person visit. It is wise to set up all the tours on the same day so that you only take the necessary time off work.
3. Applying for the apartment – 1 month before the planned move-in
So you have finally found an acceptable apartment that could be your dream home for at least a year. This is a laudable feat, but the work is far from over. You have to first fill out the apartment application at least a month before your target move-in day. Along with this, your landlord will probably require a credit check, look over your rental history, and require the following documents:
Proof of Income
Some landlords or property management companies may simply check with your employer or take your word for it. For others, you may have to bring in at least one pay stub as proof of regular income. If your paycheck goes directly into your bank account, you may ask your employer for some paper documentation.
Bank Statements
These are not always necessary, but some landlords may ask for them. This will help them check the renter's financial stability. However, you should white out the account numbers before sending the statements over. The statements will show your income, whether you are currently paying rent on time, or whether you have monthly expenses, like alimony or child support.
Proof of Identity
This could include driver's license, passport, social security card, etc.
Others
Just to be on the safe side, you should be ready with your vehicle registration (if you have a vehicle), references/recommendations from your current landlord, resume, etc.
The Takeaway
If you do everything within safe and reasonable time slots, the apartment search should take you about three months. Ensure that you have a place to stay for at least this amount of time before you sign any new lease. As long as you stay on top of things and stay within a budget, the process should be fairly smooth. Start saving up now and look around for your dream apartment today!