Getting your first apartment is exciting. To make moving into your first apartment the best experience possible, you must prepare properly and take the necessary precautions to protect yourself. Read our first–time apartment renter guide to learn more!
First-Time Apartment Renter Guide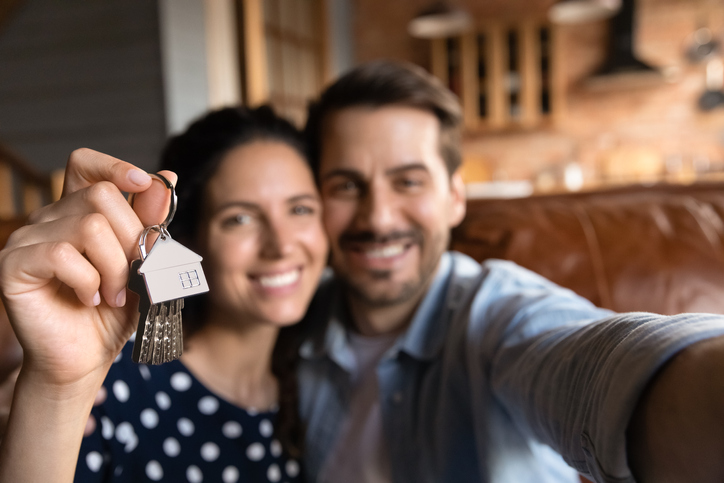 Step One: Preparing Finances
First and foremost, you will need to prepare your personal finances to ensure you have the funds to move into a new apartment.
Budget
Establish how much rent payment you can afford with your income. Experts recommend allocating 30% of your income toward rent. Otherwise, you may struggle to pay rent on time.
For example, if you make $3,000 a month, you should feel comfortable with a monthly rent of $1,000.
Many people move–in with a roommate to relieve some of the financial stress. Be very careful about who you select as a roommate, though. If you choose the wrong roommate, you may end up regretting it. Pick a roommate with a good job and a history of reliability. Ideally, you and your roommate should also have a plan in place in the case of unemployment or other financial hardship. Learn how to split-up rent with roommates here.
Credit Score
Your credit score will play a large part in the apartment complex's decision to rent to you or not. If you have no or bad credit, you need to take the time to improve your credit score to pass the credit check. Learn what credit score you need to rent an apartment here.
Your credit score consists of the following aspects:
● Payment history (35%)
● Credit utilization (30%)
● Duration of credit history (15%)
● Credit mix (10%)
● New credit (10%)
You can improve your credit score by paying bills on time and addressing any delinquent accounts.
If you have no credit, take out a small credit card. Pay it off every month to improve your low credit score.
Do not expect your credit score to improve overnight! It will take months to see significant results.
Moving Expenses
After you pay the rental application fee at the apartment complex, you will need to save up money for the apartment move–in fees. Your move-in costs usually consist of the security deposit, which is typically a month to a month and a half's worth of the rental rate (refer to Michigan security deposit law), as well as the first month's rent and last month's rent. If you have pets, you may need to pay extra (refer to the apartment pet policy for these details).
So, if the rent is $1,200, you should expect to pay around $3,600-$4,200 upfront. You may need to save up for this expense. Start saving months in advance to ensure you are prepared.
You will also need to spend money to move your items. If you are lucky, you can move a majority of your items yourself. However, you will need to pay the people who help you. You will also most likely need to rent a truck or pay someone to use their truck for the day.
If you need to pay for movers, expect to pay around $50 per hour per mover. Here are some tips for moving into your first apartment that we recommend you consider.
You will also need to furnish your apartment and stock the space with the little things you need, such as silverware, toilet paper, and cleaning supplies. You can look at thrift shops for furniture and other household goods if you need to save money.
Do not spend all of your money on moving. Keep an emergency savings account with at least one month of rent in the case of an emergency.
Step Two: Finding An Apartment
With your finances in order, it is time to go on an apartment hunt.
Research the area to learn about the different neighborhoods and search for apartments in your preferred neighborhoods.
Things to consider when researching a neighborhood include crime, school district, walkability, public transit, nightlife, natural features, and other things to do. For people in Michigan, start your search by reading about the best 1-bedroom apartments in Farmington, MI.
To find apartments, start with a local search using reputable online resources (not Craigslist). Learn where to find apartments for rent online here. After you do your initial research, work with a reputable rental agency in your area. These agencies know the area and have the most relevant information available.
Once you find apartments within your budget, you will have to compare the different apartments. We recommend comparing apartments based on amenities, such as:
● Rent
● Included utilities
● Square footage
● Bedrooms
● Bathrooms
● Pets allowed
● Laundry on-site or in the apartment
● Fitness center
● Efficient appliances and building materials
● High-end building materials, such as marble
● Floor plan
● Natural light
● Patio
● Nearby attractions
● Swimming pool
● Tub/Shower
● Ample parking
● Public transportation nearby
● Distance to a major city
● Socially active apartment communities
You likely will not get absolutely everything on your wishlist. It is wise, however, to write a list of "needs" and "wants" to help you make your decision. For example, you may need a pet-friendly apartment, but want a pool. You can save time by not looking at apartments with a pool if they don't allow pets.
After you find an apartment that you like, ensure you meet all requirements to move-in. Many apartments will require specific proof of monthly income and a minimum credit score. If you can not meet these specifications, move on to an apartment that does fit your financial situation. You do not want to spend money on a rental application only to get denied. Learn how long an apartment application takes to be approved here.
Step Three: Ask Questions
You need to know what to ask when apartment hunting. Ask all of your questions to the property manager or the property owner. Some questions to ask include:
Will the rent ever increase?
Will you need additional security deposits down the road?
Can we go month-to-month when the lease is over?
What is the policy regarding repairs?
What is your current time frame regarding repairs?
What should I do in the case of a maintenance emergency?
What do I do if I lock myself out?
Are there rules regarding guests and noise?
How long do people typically stay?
Is there storage?
Where should guests park?
Are there rules regarding garbage? Can I throw out furniture and big items?
Does the landlord give notice before entering the apartment?
Are there policies regarding smoking?
Is renters insurance required?
What safety amenities come with the apartment?
What happens if a roommate can't pay their rent? Will you be responsible?
Are there late fees if I'm late with rent?
You can find a lot of the answers to your questions in your apartment lease. The rental agreement is a contract between you and the property managers. The lease agreement will need to be signed before you move-in. If you break the agreement, you may face eviction, so take the agreement seriously. Learn how to review an apartment lease here.
Step Four: Inspecting the Apartment
After you find an apartment, you need to inspect it to ensure the apartment looks and operates as advertised.
During your walk–through, ensure that you check how everything works. Turn on the shower and faucets to check the water pressure and temperature. Check the air conditioning and heat. Verify that all appliances work.
If everything looks up to par, do not forget to take pictures of the condition of the apartment. Save all of the pictures online and back them up in case you need them when you move-out. When you move-out, the leasing company will deduct any damage from your security deposit. In the case of a dispute, you will be happy you have proof of the unit's condition. Learn more on how to get your apartment deposit back here.
Step Five: Moving In
Now it is time to move-in!
Take a day or two to properly move everything into your new apartment and establish an interior design aesthetic. You want to make your apartment feel like home. Create an apartment checklist of all of the things you will need to do before and after you move-in to keep you organized.
Be proud of your apartment! Take pictures and show your loved ones how beautiful you made it.
Remember, having a nice apartment is more about cleaning your apartment than having nice items. After you move-in, dedicate yourself to a cleaning routine. You will thank yourself later for your discipline.
If you live with a roommate, come to an agreement on cleaning common areas before moving in. You should also come to an agreement regarding guests and using each other's kitchen tools and electronics.
You should make spare keys as soon as you move-in and give them to nearby family members. If you don't have a family member nearby, look for a lockbox or fake rock at your local hardware store.
Step Six: Meet the Neighbors and Learn the Neighborhood
A cohesive apartment community can enhance your first apartment experience. If you see people in the halls, introduce yourself! You can even go above and beyond by baking cookies or hosting a party for your neighbors.
You will also want to get to know your neighborhood. Try the best-reviewed restaurants in the neighborhood and visit some bars or clubs to get a sense of the nightlife.
Do not forget to explore the natural resources available to you. If you have hiking trails and lakes in the area, take advantage! Michigan, in particular, has a lot to offer when it comes to nature.
Soon, you will be fully acclimated to your new home!
Contact Brookfield Management to Learn More
Renting an apartment should be a good experience, especially for a first-time renter.
Brookfield Management is a reputable property management company in Michigan. We can help you when renting your first apartment. We work with college students and other people starting out with little to no rental history.
Contact Brookfield Management to talk to a property manager or rental agent today about our properties: Botsford Place Terrace Apartments in Farmington Hills, MI and Cass Lake Front Apartments in Keego Harbor, MI!