Moving to a new location is always an option, and there are numerous reasons to do so. You might be fresh out of college and looking to start a new chapter in your life. Or perhaps you simply want a change of scenery.
You will, in any case, be looking for a modern apartment that will provide you with the best living experience possible. You're looking for a place to call your own, and, as we all know, home is where your heart finds tranquility.
On the other hand, peace is dependent on a variety of features in a residence. As a result, you may want to look for an apartment with all of the amenities you require for a comfortable lifestyle.
Modern Apartment Features
Before you start modern apartment hunting, make a list of the things you desire in your prospective residence. That way, you will save time and the risk of forgetting important features as you hunt.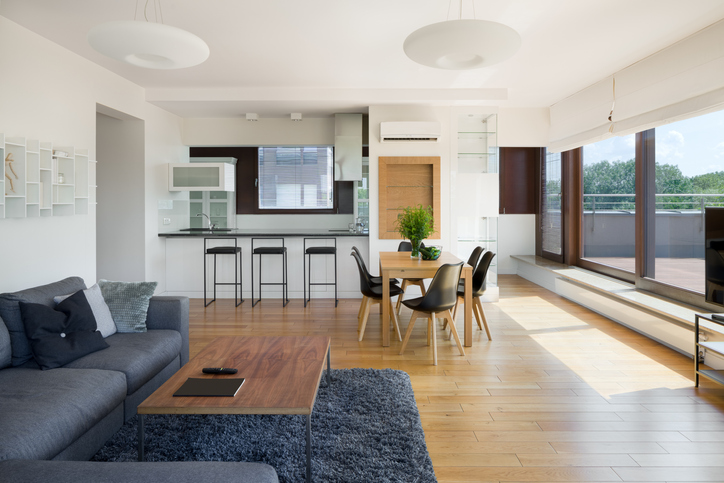 With that said, how can you know what to look for when renting an apartment when there are so many possibilities in front of you? Is it the outdoor space, floor plan, or safety, just to name a few?
If you're having trouble figuring out what you need, here's a list of what to look for in modern apartments.
Smart Home Automation
In today's residences, technology is a must. Nowadays, many of us prefer to be able to operate our home's features from afar. Controlling light switches, for example, is one instance.
Not only are phones and laptops on the cutting edge of technology, but so are many apartments. We can operate the heating and air conditioning system, the hard-wired or wireless home security system, and more with remote controls.
The application of technology in flats has paid off, making life in dwellings more luxurious. Most individuals are willing to pay a premium for convenience or amenities that will help them feel more at ease and productive.
To put it another way, every tenant desires to live in a residence that they see as a luxury apartment.
Open Plan Kitchen with Dining and Living Area
Every modern kitchen needs to be designed with functionality in mind. The kitchen must be set up to allow for easy access to modern appliances, dishes, food, and more.
The design of the kitchen should also feel inviting by incorporating spacious granite countertops, ample cabinet space, and an open layout that integrates with the rest of the home.
Today's apartments are not the same as what they used to be. Modern living spaces have evolved to include more open spaces, highly-customizable designs, high-quality materials, and more.
The people's demands have changed, so the apartments must now meet those demands.
Plenty of Storage Spaces
Space is often a concern for renters who purchase or rent an apartment to find that their storage space is too small. Fortunately, there are plenty of apartments with large walk-in closets and cupboards available at reasonable prices — especially in the suburbs
Today, we live in a world where everything we order comes to us at the click of a button. Sometimes it can be hard not to impulse buy, and before you know it, your closet is overflowing with clothes, shoes, and accessories.
Your home office may also be full of unopened packages from Amazon or eBay packages- ordered for no other reason than because they were on sale.
This is why you need an apartment complex with extra storage spaces.
Additionally, the average American moves 11 times in their lifetime. That's a lot of packing and unpacking, and it can lead to a lot of clutter, which takes up valuable space. If you live in a small apartment with little storage space, you may not have room for all your stuff.
Clutter can make an apartment feel smaller and cramped, which is why people should consider looking for an apartment with ample storage space. You can also review our guide on How to Maximize Space in an Apartment for more tips.
Access to a Fitness Center
Millennials are more concerned with their health than any other generation, so they have a higher focus on wellness and fitness.
One way they achieve this lifestyle is that they live in apartments that provide a fitness center.
When people sign leases for these apartments, they will often get the first month free, and the gym membership is included in the price of living there.
The thought of not having to pay a monthly subscription to workout is a great perk, and is one of the numerous reasons why millennials prefer flats with exercise centers.
Ample Parking
The increase in the number of millennials looking for apartments with parking, when comparing apartments, has made the modern apartment complex a popular option. It's one of the prerequisites for many millennials when choosing an apartment.
Parking is a precious resource in many cities, so it's no surprise that people are willing to pay more for it.
Pet-Friendly Environment
A modern apartment should have a friendly apartment pet policy. In a society where young people are increasingly moving into cities, they're also looking for pets to move with them.
The number of pet owners is on the rise, with millennials spending more time at home and looking for ways to bring their four-legged friends along their life's journey.
In-Unit Washer/Dryer
Most prospective renters these days search for "apartments near me with laundry" because they want a laundry space that's convenient and easy to use. Modern washers and dryers are designed with this in mind, providing comfort & convenience while limiting noise.
Some washers have a fast cycle that can be completed in under 20 minutes, while others have a programmable timer for unattended use. Dryers also vary in size from compact to floor models.
Swimming Pool
A swimming pool to cool off and relax in during the summer is a must for many people looking for flats.
Some pools are simply too large and take up too much area; however, others are modular and require less water. A renter would be delighted to call such areas home, in any event.
A modern apartment is defined not only by the features it offers its tenants, but also by the quality of those apartment features.
Security
Most renters always look at the crime rates in neighborhoods before signing a lease.
A high crime rate can make renters feel unsafe and unwelcome, but it does not mean that every place in the neighborhood will be dangerous.
There are ways to make sure that you live in a safe area, such as making friends with your neighbors and taking security precautions, like installing locks on doors and windows.
Fast Internet
A lot of people nowadays opt to work from home, and one major requirement for this is fast internet.
According to the New York Times, many renters choose to work from home instead of commuting long hours. The demand for fast internet is higher than ever before.
The idea of fast internet has coincided with innovation in metropolitan areas. Wireless internet is quickly becoming the norm, with more people living in smaller spaces.
This new development is even better for convenience, as it eliminates the need to connect wires or cables to various devices for access.
Energy Class A
It's no surprise that keeping utility bills low are one of the top concerns of many renters when choosing their potential flat. While every renter is different, there are certain things to think about when considering your next apartment.
As a result of its great energy-efficiency, an apartment rental with an Energy Class A is often easier to rent due to its ability to save energy in an apartment, and ultimately save people money.
Wide Range of Floor Plans
Millennials are on the rise, and so is their desire for a customized floor plan. It's no surprise that a studio apartment building with a customized floor plan is a top choice among them.
Studio apartment buildings with a custom interior design can come in many shapes and sizes, but they're all meant to fulfill one main purpose: to make your apartment feel like home, all while saving you some space and money.
Living spaces with high ceilings, wood flooring, a bright living room, and a dining area are becoming more and more desirable for renters. In general, the house's interior design must be current in order to keep up with market trends.
Final Thought
When you are searching for an apartment, it is important to make sure you are considering what features are important to you.
The features can be as varied as the number of bedrooms, access to public transportation, or the proximity to hot spots in your city. One feature that may be overlooked when looking at apartments, however, is the quality of natural lighting.
You can do several things to maximize the amount of light in your home, such as choosing apartments with large windows, or windows with a greater surface area, to let more light in.