Whether you're empty nesters and you have a big house or are seeking to move from the suburbs into a smaller city space, downsizing can present some challenges.
For instance, what will you do with the large collection of family albums, oversized furniture, or the gear in the shed?
With downsizing, you'll certainly face the challenge of fitting your belongings into your new smaller footprint. With that said, you can avoid the anxiety and create a stylish home without missing a thing with proper planning.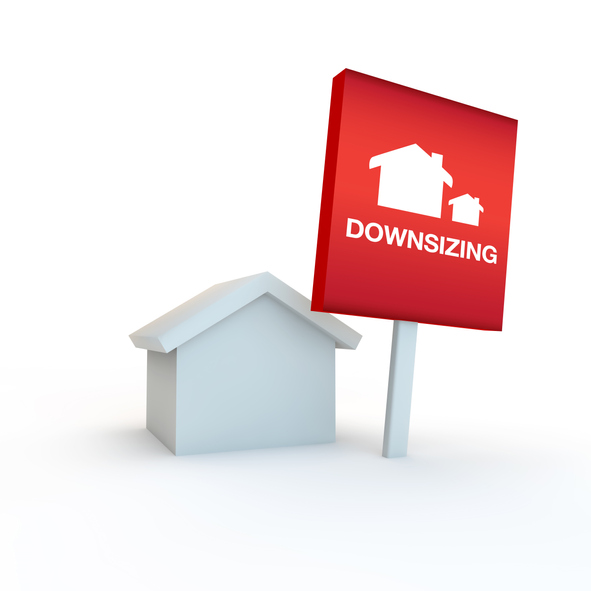 Here, we focus on why downsizing is the right choice and provide you with some downsizing tips.
Downsizing to an Apartment
Below are some tips for downsizing into an apartment space and making the process effortless:
Start Decluttering
Immediately when you conceive the idea of moving into a smaller living space, you should start planning.
There is no denying that downsizing causes a lot of conflicts and emotions, especially where family is involved. Therefore, you must prepare a list of the things you love, and those you can do without.
Let your family members know your intentions. They deserve to be on the same page as you before they begin clearing out. Downsizing to an apartment requires that you do proper planning.
Make a Decision on Your Lifestyle Needs
You need to determine your lifestyle needs before finding your new house or moving into a new apartment. This is a critical step in deciding what is expendable and what you'll need in the next chapter of life.
For instance, ask whether you'll require an office or just a nook with a desk. How much space or square footage will you need for critical furniture items? What kind of lifestyle do you wish to embrace?
Adjust Your Mindset
If you decide to downsize because you can't manage your family physically anymore or for a financial reason, it's easy to find yourself falling into a negative mindset.
Even though you'll be losing square footage, there are certain things to love about downsizing into a rental unit. This includes less pressure for hosting large gatherings, easier upkeep, and lower costs.
You're also likely to be closer to shopping strips, entertainment avenues, and great cafes.
Label Bins
Here, you need to set up three plastic bins or tubs with the labels 'keep,' 'sell,' and 'charity' to start sorting your possessions. Please remember to allow your family members to acquire sentimental pieces before doing so.
Since the average downsizer keeps just about one-third of their belongings, ensure you have enough space for sorting your things.
2nd Round of Downsizing
After sorting the 'keep' items, begin downsizing them even more to have less clutter and ensure you only have important items. Just like when styling all the rooms, take some breaks before resuming and getting rid of several things to get everything in order.
Instead of Throwing Out… Auction
Having some extra cash in your kitty can be very important when you decide to move.
Consider auctioning off some items before you decide to get rid of furniture, homewares, or antiques. You may get a lot of money for that old silverware or china set that's just collecting dust.
Play with the Floor Plan
It's difficult to know the furniture pieces that will or will not fit unless you open your mind to your desired floor plan. Measure the pieces you would like to take with you and draw everything onto your plan.
It's also critical that you double-check your home's access, especially if moving into an apartment. This will, for instance, save you from lugging around very heavy cabinets only to find that they don't fit in the elevator.
Get Inspired
Get into a furniture store or flick through interior magazines to get as much inspiration as possible. If you decide to shop for furniture, plan handily with the existing items to work out effectively on the new pieces you require.
Doing so will provide organization ideas and styling for your new pad.
Get Smart Storage Options
The biggest challenge with downsizing is keeping the clutter out. You should find a smart storage unit that can fit into the smaller space.
You need to incorporate items, such as a Malmo coffee table with drawers that are ideal for magazines, housing remotes, or board games. It's also critical to have buffets for placing serving ware, vases, platters, or sentimental possessions.
Obtain extra storage solutions depending on your needs.
Adjust Your Habits
Downsizing to a smaller apartment space means that you don't have all of the storage options you would enjoy in a larger space. This can be beneficial since you realize that you can't hold onto and collect everything.
The truth is that you need to adopt a one-in-one-out policy and change some old collecting habits.
Benefits of Downsizing
Downsizing to an apartment presents several benefits, as we'll see below:
Less Upkeep
One main advantage of downsizing from a house to an apartment, for most people, is less maintenance. There are smaller floors to sweep, less space to dust, and few things and indoor chores to manage, thus you will save money in the long run. This can be attributed to you having less stuff.
You won't do any outdoor upkeep since the apartment's maintenance crews or landlords will typically handle landscaping, lawn mowing, and snow removal.
Renting a smaller unit also means that you won't incur any repair or maintenance costs for your air conditioning units, furnace, or appliances.
Use Less Natural Resources
Apart from having fewer maintenance requirements, apartment living presents more greener living than house living does. For instance, there is no large garden or lawn to water.
Most apartments are also connected to better public transportation. This means you can easily bike or walk to many nearby attractions.
Interact with New People
When downsizing from a house to an apartment, you get a chance to try new activities and meet new people. For instance, it becomes easier to go for a walk or play a hand of cards with the neighbors since they are closer in proximity.
It Eliminates Unnecessary Purchases
It's rare for rental unit dwellers to make impulse purchases because they lack enough space to store extra items. You can only buy what you need and make purposeful decorations with a small apartment space.
Pass Down Family Heirlooms
Downsizing from a house to an apartment also means downsizing your belongings. It offers you a chance to pass your family heirlooms to the younger generations.
For instance, you get a chance to see the appreciation from your grandson when they get your old baseball card collection.
You Get a Fresh Start
Shifting from a large house to an apartment gives you a new life outlook, especially if it's your first time in the unit.
A rental unit offers a new beginning without burdens, like large rent payments, larger mortgages, or high property tax payments.
It's always liberating to begin a new life chapter. It also becomes inspiring to make other freeing decisions.
Reduction on Your Monthly Bills
An apartment provides lower monthly utilities than a home, especially if you find a good deal. For instance, you'll use less heat, water, and electricity with the smaller unit.
Some monthly bills may even be eliminated altogether. For example, there is no need to rent a water softener for managing hard water if you decide to settle in an apartment.
Some utility bills, such as waste management and water bills, may also be included in your apartment monthly rent.
Even though you'll have less clutter after downsizing, you'll still have things that are worth your protection. You can access a renters insurance policy to cover your belongings and to make sure your new space is well protected.
Conclusion
It's inevitable and normal that a major transition, such as moving into a smaller apartment, will shake up your routine. However, you can make the transition more successful than ever with the above tips.
As we have seen, downsizing presents several benefits, including less maintenance, interacting with more people, getting a fresh start, and a reduction in your monthly bills.
You should conduct ample research to make sure you downsize to the best neighborhood to access the best amenities.