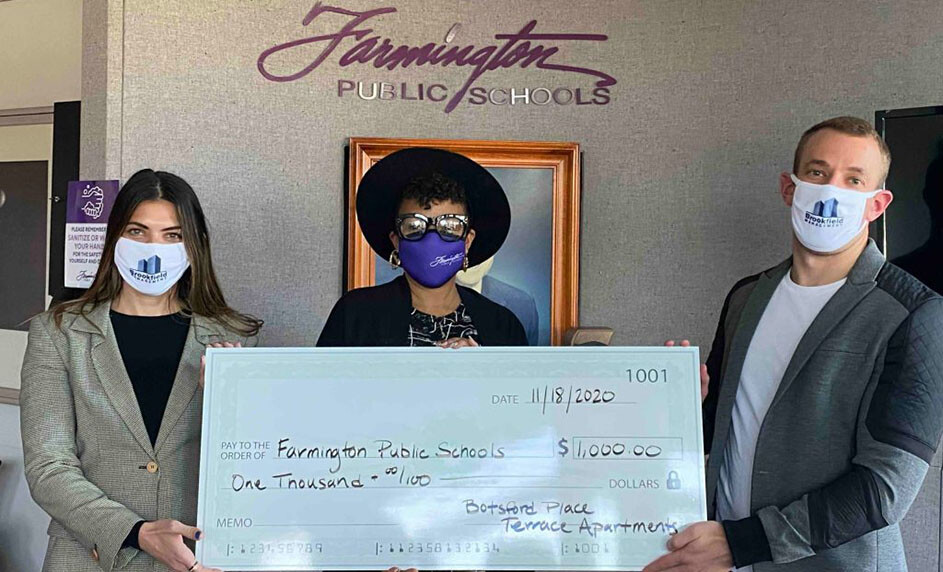 1 year ago · Justin Becker · Comments Off on Botsford Place Terrace Apartments Donates To Farmington Schools
For most people, 2020 has been a tough year. Millions have lost their jobs, and over a quarter of a million people have lost their lives due to COVID-19. Moreover, it is, unfortunately, that the world had to suffer a pandemic to get back to what really matters — taking care of oneself, loved ones and each other.
Here, in Michigan, the pandemic has caused schools and offices to opt for remote learning/work, and people have been struggling to make ends meet. That being said, thanks to organizations like Brookfield Management Company, which owns Farmington Hills-based Botsford Place Terrace Apartments, many metro-Detroit families have received much-needed assistance.
Brookfield Management Company and Botsford Place Terrace Apartments recently donated $1,000 to Farmington Public Schools' Diversity, Equity and Inclusion Department. Managing a multi-family housing community showed Justin Becker, owner of Brookfield Management, firsthand the hurdles that the pandemic, unstable economy and remote learning have caused many working and low-income families. Thus, Becker decided that he was not going to sit back and watch his residents struggle.
"There is no denying that times have been tough for people. As most of the schools have gone virtual, we see how families are affected by now having to add being classroom teachers to their long list of things they now need to do in order to stay safe and provide for their families. Moreover, it is affecting our residents," Becker said. "We are always trying to think of ways we can help our community, and giving back to Farmington Public Schools just seemed like the next logical step," remarked Becker.
That said, the $1,000 donation was requested to be used to help low-income families fund opportunities like field trips, purchase athletic equipment and support in-school activities that parents otherwise may not be able to afford.
On top of that, Botsford Place Terrace Apartments has spent the past nine months doing everything in their power to provide a safe environment for its residents. Moreover, the management team here has gone above and beyond with food drives. This is in addition to actively sitting down with residents who are experiencing economic hardships in order to help them find other assistance programs, as well as work out possible payment plans or arrangements with utility companies, and so on.
Affordable Apartment Living
Along with donating to Farmington Hills Public Schools and charitable organizations that are focused on helping families during the ongoing pandemic, Botsford Place Terrace Apartments is committed to making a difference within the community in general.
"Our management team is always looking for ways to help out our residents and the surrounding community. The fact of the matter is people are not able to work as much as they would like or need to, and this weighs heavily on families trying to make ends meet," explained Becker. "That is why we have made it a point to help our residents financially by offering some of the most affordable luxury apartment homes in the metro Detroit area. We also provide much-needed assistance to our residents that are experiencing an economic hardship or have recently lost their jobs due to COVID-19," Becker said.
Within this Farmington hills apartment complex, there is a real sense of community. Not only will you find affordable, luxury apartment homes, but residents also enjoy playground areas, basketball courts and lush landscaping. Plus, there are tons of amenities and all the comforts of home.
Furthermore, the nice thing about these apartment homes is that they offer ample space for remote learning and work. So, families can handle everyone being at home without feeling like they are on top of one another. There is also talk of setting up designated work areas for residents that may want to get away from all the distractions. In addition to all of this, Botsford Place Terrace Apartments hosts management sponsored events for residents on a regular basis, which allows everyone a chance to get to know each other and socialize safely (in accordance with CDC guidelines).
Botsford Place Terrace Apartment also offers one-, two-, and three-bedroom apartment homes. Some notable features include spacious floor plans, upgraded layouts, move-in ready units, virtual apartment tours, a fair pet policy, as well as a welcoming and diverse environment for growing families, retirees and young professionals.
An Apartment Complex that Cares
"We have a lot of families with kids that attend the district, and with everything going on, we thought there had to be a need," said Stephanie Trivax, a Brookfield Management Company representative.
Not only was there a need, but Farmington Hills Public Schools also had a plan to put Brookfield Management's and Botsford Place Terrace Apartments' donation to good use.
"We are not able to fully fund some of our programs," Assistant Superintendent of Diversity, Equity and Inclusion Bobbie Goodrum said, "as a result, some programs have to be fee-based. Thus, with donations such as these, more students are able to participate in these programs, and we plan to get as many kids involved as we can."
"We would also like to make sure that money is utilized possibly in our Title I schools, where we have the highest percentage of students who are eligible for free and reduced lunch," Assistant Superintendent of Diversity, Equity and Inclusion Goodrum informed. "That is likely going to be our focus and making sure we can provide those funds so students can participate in activities we have that have costs associated with them," Goodrum explained.
Ultimately, donations such as these are crucial when it comes to assisting families that are struggling because of the pandemic.
Making a Positive Impact on the Surrounding Community
One of the main reasons Brookfield Management and Botsford Place Terrace Apartments chose to partner with the local public schools in Farmington Hills is because they wanted to help economically disadvantaged families in the city, not just in their immediate community.
"We thought long and hard about how we could help everyone and collectively came to the conclusion that the school system would be one of those avenues," informed Becker.
And that is exactly what Botsford Place Terrace Apartments' donation did — help their residents as well as the community at large. What's more, according to Goodrum, the funding could help more students participate in cultural programming within the district, such as Hillside Elementary School's Dream Kings and Pretty Brown Girls clubs or the district's robotics clubs.
The good news here is that Brookfield Management and Botsford Place Terrace Apartments are only getting started. "We would like to team up with and give back to as many local organizations as possible, especially during these almost unprecedented times. Ultimately, our goal is to have an even bigger presence in the surrounding community while lending a helping hand to economically disadvantaged families, who have been significantly affected by COVID-19 and the still ongoing pandemic, first and foremost," explained Becker.
Partner with Botsford Place Terrace Apartments
If you are interested in partnering with Botsford Place Terrace Apartments, have an organization that needs charitable assistance, or even if you simply want to learn more about this apartment community, then do not hesitate to contact a knowledgeable management team member or representative for additional information.
Take Away
With 2021 just around the corner and a potential vaccine on the horizon, there is definitely hope for the future. Thanks to businesses and organizations such as Brookfield Management and Botsford Place Terrace Apartments that are willing to go the extra mile, there is light at the end of the tunnel.