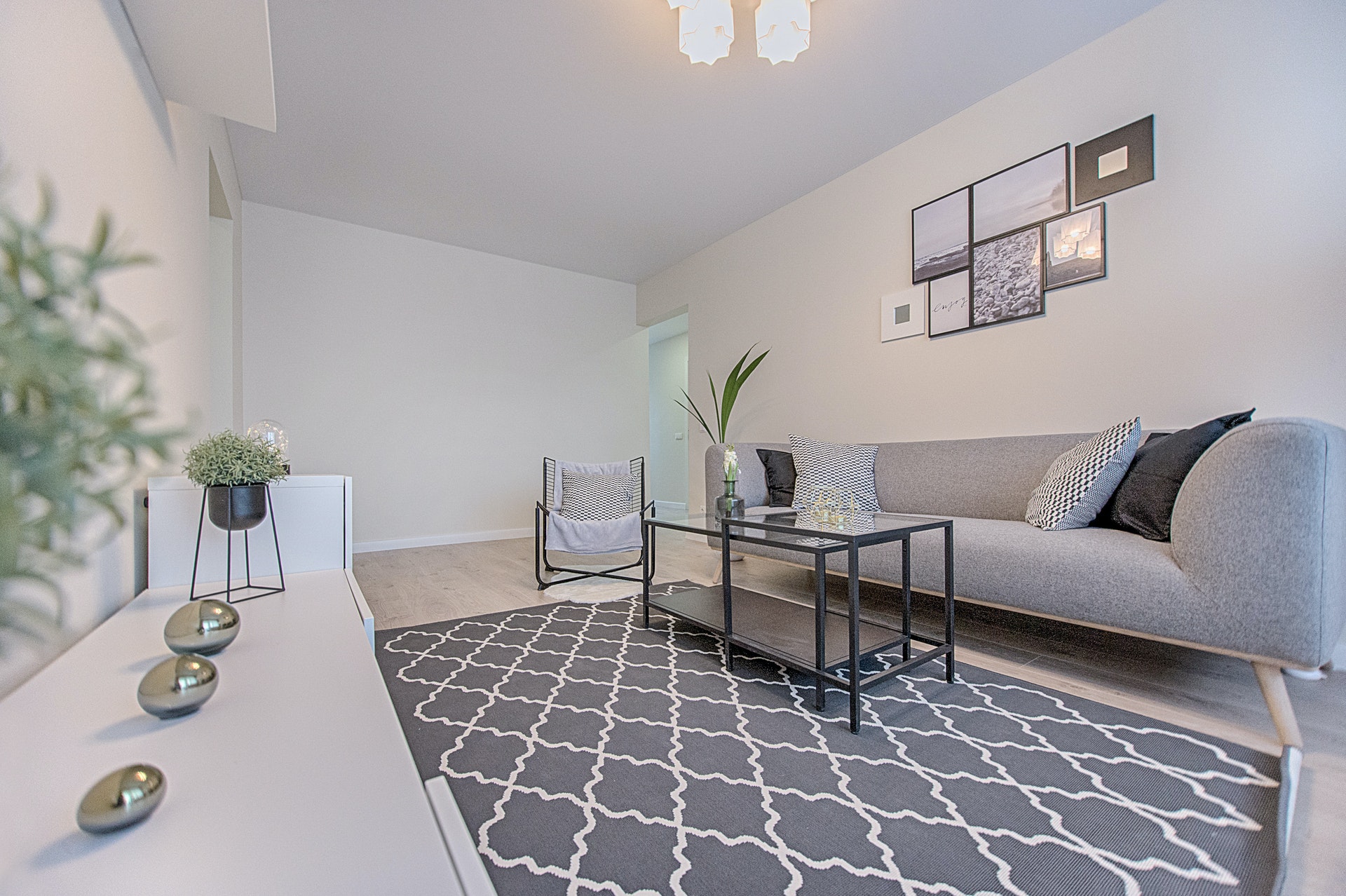 9 months ago · Justin Becker · Comments Off on How Much Square Footage Do I Need for an Apartment?
Rental apartments are available in different sizes and shapes in the real estate industry. As you review the different floor plans online, the apartment's square footage will be one of the things you're likely to check.
For instance, you might come across an apartment description that reads, "A beautiful one bedroom apartment with 1,000 square feet of living space." It sounds great, but exactly how big is 1,000 square feet?
You're likely asking, "how much square footage do I need?" With that said, let's go through the ideal square footage that you need for your house.
How Much Square Footage Do I Need?
Below we look at what square footage of apartment space is perfect for you and your family.
What is a Square Foot and How Do You Calculate Square Footage?
A square foot represents a square, with each side measuring 12 inches (one foot) in length.
For instance, standard floor tiles usually measure one square foot. This means that if your apartment has tiles in the bathroom or kitchen, you can count them to calculate square footage of the room.
With that being said, remember that you can only calculate square footage using the above approach for standard tiles. If you aren't sure whether the tiles are standard or not, measure their size directly using a tape measure.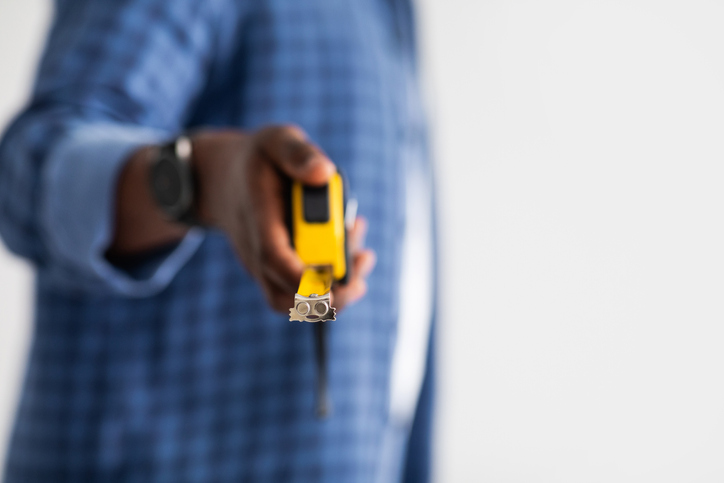 If you want to understand the total square footage of the whole apartment, always start measuring in the main living room. Use a tape measure for determining the width and length of your room. This will help you calculate square footage accurately.
You can then multiply the two numbers (length and width) to get the square footage or total area of the living space. Repeat the same in every room and add the square footage of each room together to acquire the total square footage of the whole house.
Keep in mind that you can measure the square footage differently. The accuracy of the measurement depends on the person doing the measurements and what they're including. For instance, the measurement could include the livable space or total space.
The total space includes areas such as utility and clothing closets. Livable space involves the areas you spend more time in, including the bathroom, kitchen, living room, and bedroom.
Square Footage Comparisons
If you're wondering about the amount of square footage that you'll have in your house of choice, below are some estimates (these are meant to provide a rough idea of the square foot of each space) as available in the real estate industry:
● 1,000 square feet: Half a tennis court
● 900 square feet: Elementary classroom
● 800 square feet: Regulation racquetball court
● 700 square feet: Three-car garage
● 400 square feet: Two-car garage
● 250 square feet: One-car garage
● 200 square feet: College dorm room
● 100 square feet: Doctor's exam room
Deciding How Much Square Footage You Need
How much square footage you require depends on different factors, and it's the same for almost everyone. For instance, if you're living alone, you won't require as much space as when you're living with someone else or your family.
If you decide to live with your family or a roommate, consider the square footage each of you require to be comfortable. The number of things, including furniture you plan to bring around, will also determine the square footage you need.
For instance, if you own a king-size bed, it's likely to take up at least 42 square feet of your living space. This means that you need square footage that leaves a big allowance of space.
The Average Apartment Square Footage
Apartments and houses have changed in square footage over time, as far as real estate is concerned. For instance, in the United States, the average size of a single family home is currently 2,600 square feet. This is higher compared to the average square foot of 1,660, back in 1970. The average size in 1950 was even lower at 983 square feet.
An interesting observation is that while the square foot of homes is getting larger, the size of families is trending smaller. For instance, in 1940, the average household had 3.6 people compared to today's 2.5.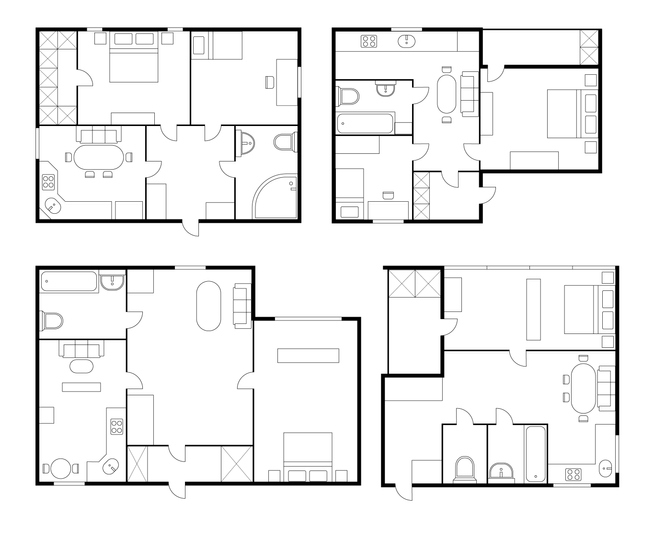 With that being said, the opposite is true for apartments. The average size of an apartment today is 1,015 square feet, which is slightly smaller than the 1,117 square feet in 2011. We can actually attribute this to the fact that there are more one bedroom and studio apartments, with fewer three and two bedroom units on the market.
For some people, smaller is better. It means cheaper utility costs, less upkeep, and potentially less clutter. This might explain the recent trend in micro-apartments, which is in contrast to the larger house trend.
So how much space do you require? Depending on the amount of stuff you have, the size of the furniture, and who you're living with, typically the amount of space you need ranges between 1,000-2,600 square feet.
Apartment Features vs. Square Footage
When you are at your apartment, which room do you like spending more time in?
If you're into cooking and love spending your time in the kitchen, go for a relatively open one. We recommend either a 'U' or 'L' shaped kitchen.
If you love spending more time in your living room, ensure you select one with the best layout. Ask yourself whether you have enough room for the sectional and large-screen television.
If you want to stay closer to the beach or near the city, square footage won't matter as much as location. Understanding your needs will enable you to calculate square footage so you are not disappointed.
Using Your Apartment Space
If you're just using your apartment space to sleep, a studio or smaller micro-unit would be perfect for you instead of a large house. If you're into hosting dinner parties and entertaining your guests, an apartment unit with a larger dining space would be more ideal.
If you receive visitors who sleep over most of the time, you need to go for at least a two or three bedroom apartment, instead of a studio.
For those working from home, office space is always critical.
The Apartment Budget
Always keep in mind that you're paying for the whole house. Even if you're always using a single room most of the time, you'll still have to pay for the unused space. The cost of utilities depends a lot on the square footage of your apartment as well.
If you want to save money, you should always keep in mind the price per square foot of your apartment. The smaller the square footage of your house, the less it'll cost you in utilities.
Since square footage is a key factor in determining the rent price, it would help to look for a floor plan with a layout that makes sense for your wants and needs.
Layout vs. Square Footage
Since the layout of an apartment is as critical as its square footage, you should look for an apartment arranged with rooms that fit you perfectly. For instance, there is no need to ignore a 250 square foot apartment if its design works well for you.
Consider the placement of the hallways and rooms. If you share the house, consider a split floor plan with bedrooms on either side of the common area.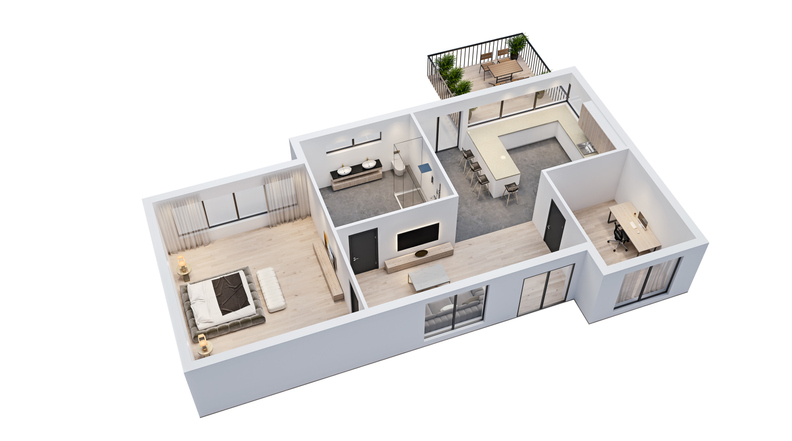 If you're into natural light, consider the location of the windows. If you love sleeping during the day and work at night, you should avoid a wall of windows in your bedroom.
You need to also ask yourself whether you prefer the separation of rooms or an open floor plan. Do you like a balcony or patio? Instead of going for a layout with a certain amount of square footage, go for one with the right spaces.
Amount of Square Footage Per Person
The amount of square footage that every person requires is unique to that individual. Some people are very comfortable living in apartments that are 300 square feet. However, others are uncomfortable living in units that are less than 800 square feet.
As far as the ideal amount of square footage is concerned, it comes back to the individual involved. Most studies have shown that 100-400 square feet are perfect for most people, especially if they live alone.
If you stay with your family, the question of the amount of space you require becomes challenging. For instance, several families live in small apartments. They are happy and feel comfortable about the spaces.
With that said, it's also common to come across families that live in small units and are uncomfortable and unhappy about the limited spaces.
Most of the time, the discomfort has less to do with the size of the units, but more to do with the way the spaces are organized.
Below are some important things you should understand:
Every person has unique and different needs relating to the square footage that is perfect for them in an apartment.
Some people feel trapped in large apartments, while others feel comfortable in small units.
The organization and layout of an apartment matter more than the square footage. It also matters a lot how the house can accommodate your lifestyle.
What to Consider While Thinking About Your Apartment Size
Even though the square footage is a critical trait in an apartment, it isn't the only thing you should consider.
You should also consider the spaces within your house, the layout of the apartment, your lifestyle, the person you'll be sharing the apartment with, and the lifestyle of your neighbors.
When you consider the size of an apartment, it will help to consider how the spaces and different rooms in that unit are laid out. For instance, you might come across large apartments packed to the brim, having cramped and tiny spaces that make the whole house feel small.
Many small apartments use open spaces to make an apartment feel bigger.
You can even be lucky to find an apartment that offers a fair share of small and large spaces.
When you consider an apartment layout, think about your lifestyle and what it involves. For instance, if you love cooking, a small kitchen might not be perfect for you. If you aren't into cooking, a small kitchen may be just fine.
The layout of the unit should assist in your lifestyle instead of making it more difficult. Even as you consider your lifestyle, it will also help to consider the lifestyle of those you're living with. For instance, if you have kids, you may want to prioritize open spaces where they can play.
How to Optimize Your New House Square Footage
To optimize the square footage in your house, it will be best to understand your possessions, along with how you'll organize and store them. It'll also help to understand what is critical for you and what isn't. This way you'll know the items you can give away and those you can keep.
Since apartments are designed with finite spaces, it would help to optimize them in order to serve your family's lifestyle.
Most units come with important things, such as wardrobes and closets. Using the spaces efficiently is critical since it ensures that your key items are put in one area. It also ensures that the items aren't taking up a lot of space.
If you take enough time to organize your items and use the available storage spaces effectively, you're likely to access more storage spaces. It's also possible to integrate storage areas in furniture to make things feel more seamless and look a little nicer.
The organization also involves furniture, such as couches, tables, chairs, and beds, that take up a lot of the spaces. By just rearranging the furniture, you're likely to make your square footage look walkable and more open. Think about each piece of furniture and the way it affects your house layout independently.
It's also critical that you consider possessions that aren't in use and simply consuming space. Give away such possessions to create even more space.
Final Verdict
As we have seen, rental apartments are available in different sizes and shapes. Therefore, it's important to calculate square footage of your house, even as you review the different floor plans.
After determining the square footage of an apartment unit, remember that a square foot represents a square, with each side measuring 12 inches (one foot) in length. This is equal to the size of a standard floor tile.
There are factors to consider while selecting the square footage you need, including your living situation, the number of possessions you own, your plans for the apartment, your budget, and the duration you plan to rent the apartment.
We hope that you select the perfect house size for your family. Whether you have a single family or a large family, there is a perfect house space out there for you, you just have to go get it.